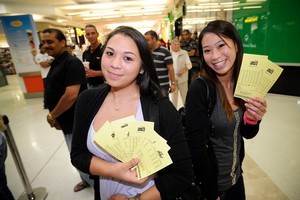 Two winners each scooped more than $17.6 million in last night's must-be-won Lotto Powerball draw.
The tickets that shared a record first division Powerball payout were bought at Dannevirke New World and Take Note Dinsdale in Hamilton.
A share of the Lotto first division prize brought their total haul to $17.7m.
The owner of Dannevirke New World, Gary Hassler, was last night coming to terms with his store's role in the Lotto drama. He was at a function when checkout supervisor Linda Spence rang him.
"Linda said she couldn't stop shaking," said Hassler, who was born and bred in Dannevirke and said the sale would be "huge" for the town. "It would be nice if it was a syndicate and spread it around a bit."
Take Note Dinsdale owner Gurpreet Minhas said his store had sold 14 Lotto First Division winning tickets but last night's prize was the biggest by far.
Minhas, who runs the suburban shop with his wife Esha and his parents, said the family had been run off their feet as punters queued for tickets yesterday.
"We didn't get a chance to sit down."
He had lots of regulars, including two who had big scratchcard wins last year, and was looking forward to finding out who won last night.
Lotto retailers across the country were flat out yesterday. Long queues were reported as draw time approached. NZ Lotteries recorded a milestone sales week of $34m, smashing the previous record of $28m.
Chief executive Todd McLeay said the $17.7m prize would be "absolutely life-changing" for the winners.
He advised them to ring 0800 MYLOTTO. If verified as a big winner, they would be told how to claim their prize and get practical advice and emotional support.
Seven other Lotto players, from Rotorua, Lower Hutt, Napier, Manukau, Pukekohe, Ohope and North Shore won a Lotto first division prize of $111,111.
Their winning tickets were sold at Pak'N Save Rotorua, Petone Take Note and Lotto, Countdown Hastings, Botany New World, Pak'N Save Pukekohe, Ohope Four Square and Foodtown Browns Bay.
Strike Four was also struck, with three players each winning a share of $127,249.
The winning tickets were sold at Lytton West Post and Lotto in Gisborne, Glen Innes Dairy and Lotto in Auckland and Bridge Street Dairy in Christchurch.
According to Lotto rules, a must-be-won draw is called when the Powerball first division prize reaches $30m.
The last such draw was in October 2008. With no first division Powerball winners, the prize rolled down to five second division Powerball winners who won $6.1 million each.
Last night's winning numbers were 3, 5, 8, 18, 20 and 35. The bonus ball was 10 and the Powerball was 3.
Do you know a big winner? Email news@hos.co.nz