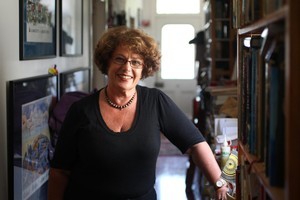 They say when you are drowning, your whole life flashes in front of your eyes. That is certainly how I felt last week. Should I accept the list seat I'd signed up to in the 2008 election or walk away from 18 years in Parliament and 35 years personal commitment trying to make New Zealand a better place? Could I make a difference and what would that mean for the new life I've made since I left Parliament? On Thursday I was sure I had to go back. By Saturday I knew I couldn't. It was the hardest week of my political life.
On Monday, I just mostly felt relieved.
I went into Parliament in 1990, partly because I hated the politics of the 80s where election promises had been broken, where people's trust had been betrayed, with increasing social and economic gaps. I looked with horror at the bleak vision of New Zealand of some leaders, Labour as well as National. I'd also promised the campaign team in Panmure, who were worried that a young woman would just do a term or two then leave to have babies, that I'd do my best to pass on the lessons I'd learnt in Parliament, to the next generation of Labour MPs.


In 1990 I was also very sure about the positive power of politics. I had been told that New Zealand had been a political and social laboratory and that our system of services and support for businesses as well as for all citizens, had delivered the prosperity and opportunity of the New Zealand I'd grown up in. I said in my maiden speech that I was determined to fight for opportunity for all New Zealanders and to get Auckland its fair share of resources so it could keep pace with population growth and play a full role in generating wealth for New Zealand. I still think these are critical issues.
While I grew up in a political family, my real apprenticeship was in the hard, cynical school of the Auckland Central Labour Party where Richard Prebble and his mates took no prisoners; where any tactic was fair if you won; where attack (personal or otherwise) was the first line of defence. And you never, never gave up, no matter what.
But I also found people I respected and enjoyed working alongside. Margaret Wilson, Helen Clark, Cath Tizard and Jim Anderton ran smart, inclusive, positive campaigns which taught me and many others like Mike Williams, Len Brown and Matt McCarten how to make a difference.
But the politics in 2011 is very different from 1990 and the way politics is covered by the media has changed too.
MMP has resulted in a much wider range of New Zealanders in Parliament but it had also led many people to see list MPs as part of the problem that needs to be fixed in the upcoming review. John Roughan in the Herald talked of "the netherworld of a list MP" ... "a rootless, second-class existence for any self-respecting member..." and I had never been a list MP before. I still think MMP is much better than the system that preceded it and it's worth fighting for. Smaller electorates and fewer list MPs could be part of the answer.
The way politics is reported and debated has also changed a lot. News, whether on television, radio or in print has, been "dumbed down and tarted up". Politician's hairstyles and political stunts are more important than their principles or actual work. Al Gore said "news...-which used to be seen as in the public interest...- are now seen as profit centres... and sometimes to advance the larger agenda of the corporation that owns them." They certainly don't hold governments accountable to the electorate.
I saw the on-going attacks on my character and my work, in blogs as well as in the Herald, as a Crosby-Textor/ Karl Rove-style attempt to destroy Labour leaders, but the attacks had caused a lot of grief to my family and many political friends and supporters. If someone looks happy and confident, say they are lazy and arrogant; if they are warm, accuse them of being emotional, attack all women on their sexuality and if they don't have children, accuse them of being sterile man-haters. If they are good electorate MPs or if they are happy to play a support-roles say they are failures and not "stars". None of it may be true but if you say it often enough some of the mud will stick... and perhaps sell ads.
The only regret I had when I left Parliament was for the severe illness which made my last year an exhausted struggle to do the all the things I had to get done. I'm very proud of my record including stopping mining in the Coromandel through my Private Members Bill, almost completing Auckland's motorways and kick-starting bus and rail public transport, finishing the North Shore Busway and double tracking Auckland's rail network; work on biofuels and vehicle emission standards as well as getting funding for vital Auckland services like the Rescue Helicopter , Surf Lifesaving, ATC, and the Auckland Festival. I also loved electorate work. There were lots more things to do but there was only 7 months to go to the election.
The leaders of my own party had startled me by joining the attack. It felt a bit like a show trial. Was I was supposed to commit (political) suicide to brand Labour as new and refreshed? They are rightly desperate to win the next election but at what price? There are great people in Labour in Parliament and I believe that they can win this election. They need to show real leadership, focus on the issues and on the principles almost all New Zealand share. And they need to take real policies and real choices to the voters.
So I had to make this choice. I'd made lists of reasons to go back and reasons not to; I had a list of topics I'd want to raise and issues to fight for. I'd consulted family and political friends; I'd listened to anyone who wanted to offer an opinion and a vast majority said go back in or it's your place on the list and I voted for you or don't be bullied.
But in the end, I decided that the real fight up to the election could not be about me, nor should the Labour Party be diverted from the real fight by a media circus about me or anyone else. The National Party has lied and smiled it's way into power in 2008 and is now trying to use the Christchurch earthquake and the flat economy to sell off the rest of our assets, to destroy the social wage that have made better lives possible for generations of New Zealanders, locking New Zealanders into a future of low wages and high-cost, low-quality services where profits go to a few and the risks are all sheeted home to taxpayers.
And while I could have used the money I would have earned to re-pile and to re-roof my very old house, I can always borrow to do that like everyone else. If I'd taken the list seat I would have been attacked daily for "just doing it for the money" and would have had no chance to talk about what matters. The future of every New Zealand child and every New Zealand job is what matters.
So I when my life flashed before my eyes I decided I wasn't drowning at all. I am on very firm ground. I'm 55; it is 34 years since I was first elected, I've done 18 very satisfying years in Parliament and I have 30 or 40 more years to make a different contribution. Not drowning, just waving.