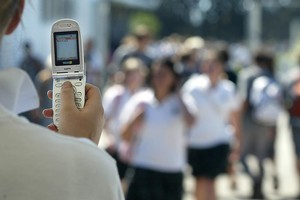 At risk of endangering the future of this column, I vehemently disagree with the socialist twaddle in this paper's editorial on bullying last Sunday.
In particular the blaming of "social breakdown related to economic disadvantage" for fuelling "anti-social behaviour" and how we "must look at how our adult culture - sport, reality television, cinema, advertising - is saturated with images of violence".
Oh, that it were so simple. If we take from the rich and give to the poor, we'll end all violence in society. Enforced cuddles instead of biffo in rugby, no more war movies, wave a socialist wand and all bullying disappears.
I doubt the two high-profile incidents of high school bullying which prompted the latest publicity would have been prevented by wealth redistribution.
Across the Tasman, the Sydney schoolboys caught fighting were filmed on cellphones and reportedly paid for television appearances, yet it eventuated they were both bullies.
Days later, in Wanganui, a 15-year-old girl, kicked and stomped on by another girl, was filmed on a cellphone then interviewed on television.
How do we know the perpetrators were motivated by economic disadvantage? Or, for that matter, by violent sport, reality television, cinema and advertising? That's a typical cop-out and abnegation of responsibility - in other words, I couldn't help kicking her when she was down, watching rugby made me do it. Yeah, right.
Bullying has become the mot du mois, covering everything from alleged violent assaults by Mt Albert Grammar girls to Andrew Little telling media Judith Tizard should stay out of Parliament.
The most ridiculous accusation of bullying was by educational psychologist Frances Steinberg against John Key, who told Education Minister Anne Tolley to write to boards of trustees reminding them of their responsibilities. He said he expected all children to enjoy a safe school environment. That response, according to Steinberg, was "one of the most brazen acts of bullying I have witnessed outside the classroom".
Actually, I'm with the schools on this bullying issue. In general, kids don't learn bullying at school, not the seriously violent kind. They learn that at home. That is criminal behaviour and should be dealt with outside the education system.
And in the case of those two Mt Albert students who've been expelled, why should the overstretched principal have to find them another school? It shouldn't be his problem; they should now be the responsibility of their parents and the Ministry of Education.
Bullying at schools is no worse and no better than it's always been, according to Secondary Principals' Association president Patrick Walsh, and most serious bullies come from homes where violence is the norm. When schools try to involve social welfare, they don't often get the support they need.
Many assaults at schools are organised and apropos of this. Walsh also raises a good point: it's not illegal to film these attacks, so students can upload them on to YouTube for entertainment.
"I think New Zealanders would find this abhorrent and repugnant, and I am calling for the filming of bullying to be made a criminal offence, unless it's filmed to give to the school or police so offenders can be caught."
Which begs the question over the Wanganui fight - who was holding the cellphone and why didn't this person stop the fight? Even if it is legal, is it moral to stand by, watch and film such an act of physical violence?
This Thursday is Pink Shirt Day, our national day of action against bullying. Bullied kids need to know that bullies are cowards and that what goes round comes round.
Like this mother's story on Nigel Latta's Facebook page: "I have a special needs son (now adult) who was teased mercilessly at school ... retard is one of the names that bothered him until one of my brothers explained the theory of retard and advance relating to car tuning ... Karl was then able to use the retort, 'Well none of you are bloody advanced either'."