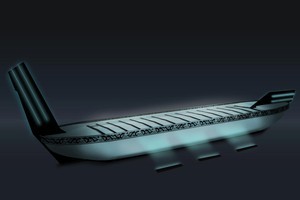 The problem with the waka-shaped pavilion to be built at Viaduct Harbour is not the relatively small $2m cost. It is not even that it might look tawdry or become a white elephant immediately after the Rugby World Cup.
The real concern is why it has taken until this week, barely 150 days before the tournament kicks off, for a plan to emerge that might celebrate and showcase Maori while a cumulative worldwide audience of about four billion is turning its attention our way.
The structure, funded in a 90/10 split by taxpayers and Ngati Whatua-o-Orakei, has been ridiculed as a "Tupperwaka" by Labour's associate Maori Affairs spokesman, Shane Jones, who may have sensed that the plan will do no harm to the prospects of Maori Affairs Minister Pita Sharples, his rival for the Tamaki Makaurau seat in the November election.
The hapu's heritage manager, Ngarimu Blair, says it is important for Maori to be seen as more than "a haka before an All Blacks game". But the pavilion seems a piece of tokenism, too little too late.
Ngati Whatua can scarcely be blamed for dragging their feet, having enthusiastically supported an entry in the aborted Queens Wharf design competition before RWC Minister Murray McCully pulled the plug on it in November 2009.
Indeed, the hapu has been arguing since the 1990s that, as the waterfront gradually moved into public ownership, elements of the redevelopment should reflect our Maori heritage. Their voice was stifled during the political wrangling about whether there would be Maori seats in the SuperCity and the result can be seen by anyone strolling from Queens Wharf to the Viaduct: there is nothing to tell overseas visitors they are in New Zealand, rather than Perth or San Francisco.
Seen in that context, the waka must be adjudged a conspicuous success, having gained approval in the face of political indifference and cultural short-sightedness. Whether it fulfils its mission to "promote the Maori economy and define New Zealand as a unique destination" rather than replicating functions performed well by existing institutions remains to be seen.
Perhaps by design, the controversy has overshadowed another announcement this week, that Party Central is going to be not so much a fan zone as a mini trade fair. The talk is of fashion shows, a food-and-wine expo and "a celebration of all things New Zealand".
Auckland councillor Mike Lee said the Queens Wharf Cloud "was always going to house a mix of entertainment, tourism information and industry promotion" and the Waterfront Development Agency chairman Bob Harvey said it was "never intended to be a huge bar".
If that is true, then those intentions have been a closely guarded secret until now. The Prime Minister announced the development as "a fan site for people to gravitate to during the tournament" and spoke of "an opportunity to turn Queens Wharf into an important public space".
The idea that waterfront revellers might pause to familiarise themselves with the intricacies of fine merino or boutique cheesemaking has a certain surrealistic appeal, but whoever thought it up may not have thought it through.
And shoving rugby-mad, liquored-up partygoers out in the cold - Auckland's average low in the cup months is around 10 deg C - is even sillier. One can just imagine what stories the fans will take home with them. "We nearly froze," they'll say. "But at least we know all about fine wool grades now."