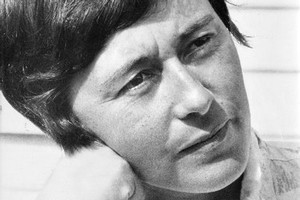 The woman at the centre of one of New Zealand's most famous murder mysteries has died.
Vivien Harrison, former wife of Arthur Allan Thomas, lost her battle with cancer in Queensland yesterday.
Mrs Harrison was placed at the heart of one of New Zealand's most baffling cases when her husband was accused of murdering Pukekawa farmers Jeannette and Harvey Crewe in 1970.
Police initially identified her as the mystery woman who fed baby Rochelle Crewe for the five days after her parents were murdered.
She stood by Mr Thomas during his trials and appeals, always protesting his innocence.
But the couple, who had married in 1964, separated before he was pardoned in 1979 after nine years in prison and never spoke again.
Last night, Mr Thomas said he would like to pay homage to his former wife for her support before 1975.
In 1980, a royal commission of inquiry concluded that Detective Inspector Bruce Hutton and Detective Len Johnston buried a shellcase from Mr Thomas' rifle in the Crewes' garden to link him to the crime.
Last night also, her uncle Pat Vesey, founding chairman of the Thomas Retrial Committee, said she never got over the false accusation against her former husband.
"It never gave her a minute's peace. I mean, she tried very hard to get over it, but don't forget it was her reputation too.
"For 40 years people whispered that she must have been the mystery woman in the case. And of course she wasn't. And the police knew it too.
"It had a lot to do with her illness. I'm sure the stress of trying to get listened to and trying to clear her name had a lot to do with it."
Mr Vesey said Mrs Harrison was diagnosed with cancer 2 months ago.
After moving to Auckland in 1975, Mrs Harrison met her second husband John Harrison, a taxi driver who often drove her home from her night shifts.
They married in September 1979, three months before Mr Thomas was pardoned and released from prison.
The couple later moved to Perth to start a new life.
In August last year, Mrs Harrison wrote to Justice Minister Simon Power asking him to appoint an independent investigator into the Crewe case, a request he declined.
Two months later, after Rochelle Crewe broke a 40-year silence to call for an independent review in an exclusive interview with the Herald, Mrs Harrison again wrote to Mr Power.
She said an independent inquiry was the only way to solve the case as the police were reluctant to re-investigate "given the level of corruption involved in the prosecution of my former husband".