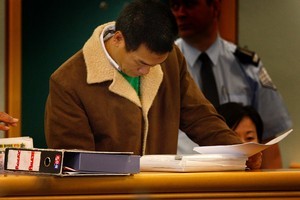 A middle-aged mother who admitted her role in an alleged methamphetamine ring run by prison inmates has now turned to give evidence against them as a Crown witness.
The 50-year-old, whose identity is protected, took the witness stand in the High Court at Auckland.
She confirmed to the jury that she was arrested and charged by police running Operation Web in September 2008. She later pleaded guilty to supplying pseudoephedrine, a precursor ingredient for methamphetamine, and was sentenced to home detention.
The woman also told the court she was arrested in Operation Leo in May 2008, a separate police inquiry. She pleaded guilty to possession of methamphetamine for supply as a result of that investigation.
Operation Web was a covert operation in which police bugged the cellphones of inmates inside the maximum security prison at Paremoremo. The Crown says the prisoners used smuggled cellphones to organise the importation of pseudoephedrine from China to New Zealand.
By directing associates on the outside - including the secret witness - the inmates also allegedly organised "cooking" the pseudoephedrine into P, then banked the profits.
In giving evidence against the inmates, the woman said one of her sons was a Paremoremo inmate with methamphetamine and violence convictions.
She said he and another inmate called "Jackie" would call her from a smuggled cellphone and tell her to pick up packages left in letterboxes at different addresses around Auckland. The packages were from China.
The pair also told her, she alleged, to text Auckland delivery addresses to a Chinese cellphone number.
Questioned by prosecutor Bruce Northwood, the woman said that at home, she would open the packages, which held hand-towels, toilet rolls and toothpaste. She would cut the end off the toothpaste tubes and pour out pink and yellow granules, which she weighed and sorted into bags.
"It was pseudo," she said, referring to the class-C drug pseudoephedrine.
The woman hid the drugs under a dog kennel until she supplied large bags separately to two men, Travis and Morgan, several times each.
She said the meetings were arranged by her son and "Jackie", who did not speak English well. Travis and Morgan would pay her $10,000 for each bag.
A month after the pseudoephedrine changed hands, the witness said, she would be supplied her "white", or methamphetamine, in a plastic container. She sold the drugs in $100 or $200 amounts, one or two grams, and also told the court she supplied P to a woman called "Kat" who lived in West Auckland.
The witness said she visited a money exchange on Queen St to deposit large amounts of cash, $10,000 to $30,000, every week or fortnight.
She said she would ring "Jackie", then pass the phone over to staff members to complete the transaction. Money was also deposited in TAB accounts and canteen accounts for prisoners, including Wanzhe Gui, Michael Laumanu and her son.
The woman also described how she smuggled cellphone sim cards, marijuana and methamphetamine into Paremoremo. She would put the drugs in plastic wrap, the "size of a Bic lighter", then wrap that in insulation tape. The package was hidden in her bra, before she would leave it in the women's toilets.
She also described giving money to an Asian man, a friend of "Jackie", called "Lee".
The Crown case is that "Jackie" is Gui, one of those on trial.
"Lee" is alleged to be another defendant, Tai Bong Rhee.
The woman was supposed to be cross-examined yesterday by Gui's lawyer, Ron Mansfield, but the trial was adjourned when one of the defendants fell ill.
Laumanu is also on trial, as are others including Ulaiasi Pulete, Kathleen Robyn Garrity, Ernest Tofaeono and Matthew John Butland.