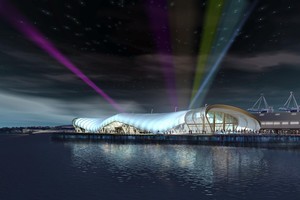 A hapu given a $2 million taxpayer grant to build a waka-shaped pavilion on the Auckland waterfront is "delighted" at the attention the project has received.
The plan to construct the 60m by 15m "plastic" waka for the Rugby World Cup has attracted a storm of criticism since it was announced earlier this week.
Labour Party MP Shane Jones branded it a "tupperwaka" and called it a waste of money and a desperate last ditch effort to include Maori in the cup celebrations.
One opponent, Act leader Rodney Hide, said to "give away $1.9 million to have a waka that the people of New Zealand won't even own is appalling".
But Ngati Whatua o Orakei project manager Renata Blair said despite the criticism, he was delighted to see so much emotional investment in Waka Maori.
Many people had wished him well with the project and urged him to "make it special", he said.
"We have had the knockers as well and that's fine because as a taxpayer I ask those kinds of questions myself.
"We have no problem with everything being said - and it is election year so we can expect a few people taking the opportunity to lob rocks to and fro.
"What it means is that we have to deliver a standout series of events and surpass the expectation we have promised. We are up for that."
Mr Blair argued the "plastic" label given to the pavilion was wrong.
The material to be used was a special tension membrane used widely in modern buildings, he said.
That material was already used at Auckland Airport and Northland Stadium and is set to cover the nearly $10m cloud fan zone being built at Queens Wharf.
"What is very cool about the design is that while the whole pavilion is 70 metres long, it is being built in a modular structure so it can be shortened if some future event suited a smaller area. So it has flexibility in how it can be used for future events."
The bulk of the $1,988,000 funding for the project comes from Te Puni Kokiri, while $100,000 will be contributed by the hapu - which will own the facility after the Rugby World Cup.
It is understood a number of possible locations are being considered, with Ngati Whatua indicating it would prefer Te Wero Island.
The spot, currently being used as a carpark, is due to be landscaped for the cup by Waterfront Auckland at a cost of $1.2 million. A temporary bridge is being built to link Te Wero Island with the first raft of public projects at Wynyard Quarter.
Mr Renata said the project should not be labelled a waka, though it was shaped like one, and argued that it should be called a multi-cultural events centre.
It would be a place where the "guitars will come out" and people will celebrate what it means to be Maori in the 21st century, he said.
"We have been quite mindful of the need for cultural sensitivity especially around the use of something as sacred as a waka. What we are creating is a multi-cultural events centre."
PLASTIC FANTASTIC
Dimensions: 60 metres long, 14 metres wide.
Room for: 1000 standing, 200 seated for dinner.
Cost to build: $900,000.
Cost to taxpayers to run for 17 days: $1 million.
Contribution of Ngati Whatua o Orakei: $100,000.