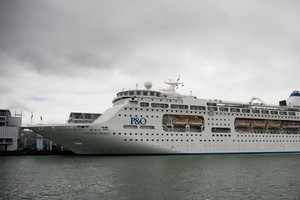 Disembarking cruise ship passengers are being forced to spend hours "imprisoned" at Ellerslie Racecourse because of a lack of facilities on the Auckland waterfront, industry leaders claim.
Cruise New Zealand chairman Craig Harris said the waterfront had no way of providing temporary accommodation or bag storage for modern cruise ships carrying an average of 2800 passengers.
Companies are having to shuttle disembarking passengers to holding facilities such as the racecourse while they wait for their flights home, he said.
Bags are trucked to Auckland Airport for passengers to claim from an exposed area of the carpark.
"Unfortunately it's true," Mr Harris said.
"Their last day in New Zealand is watching the grass grow at Ellerslie Racecourse then packing up their bags in the rain from Auckland Airport. That's worst case - but it's possible.
"It's their last look at the country. It's not a good look."
A new cruise ship terminal is included in a $660 million suite of long-term investment planned by Auckland Council.
However, there is no room in its current budget for the project or a $2 billion inner city rail loop championed by Mayor Len Brown.
Waterfront Development Agency chairman Bob Harvey said the situation was untenable in the long term.
Having passengers "imprisoned" at holding facilities was costing Auckland millions of dollars in lost spending at bars, restaurants and shops, he said.
"They are high value tourists that we want to be able to spend locally in Auckland. I'd like to take them to Waiheke. They're having to spend 12 hours out at Ellerslie Racecourse when they should have the opportunity to see the beautiful sights of Auckland."
Mr Harvey said he had raised the issue with Auckland Mayor Len Brown and received an assurance action would be taken.
"When we found this was happening, we rose it with the Mayor. This is going to be improved."
More than 200,000 cruise ship passengers are expected to arrive in Auckland between October this year and September next year.
A statement from P&O Cruises, which runs New Zealand-based cruise ship the Pacific Pearl, said the lack of port infrastructure was the biggest risk to further industry growth.
The number of New Zealanders who went on a cruise rose by 36 per cent in 2010, but that could stall with a terminal at the company's favoured location Queens Wharf, it said.
"With international cruise ship visits injecting up to $1 million into the local economy at a time, we also believe that Auckland has a once in a lifetime opportunity to develop its waterfront precinct to capture the benefits of such a thriving tourism sector.
"We also believe that after three years of community discussion, action on appropriate cruise terminal facilities in Auckland needs to be a top priority if New Zealand is to achieve the maximum benefit of the growth of cruising."
Mr Harris backed that view. A lack of an international standard terminal is beginning to hurt the burgeoning industry, he said.
He advocated renovating the existing heritage shed on Queens Wharf into a "multi-use" cruise ship terminal.
"We've marketed it so well we've got more cruise ships than we have facilities. Internationally, people are getting sick of it.
"It's unprofessional. Everyone else provides a proper facility. We're not providing the infrastructure and they're paying for it.
"We need a new facility that has bag check in facilities. They need a place where we can say to them - go out today, your bags are here, meet at the end of the day."