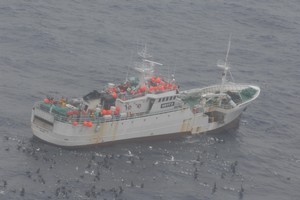 The Government is campaigning to put two North Korean ships caught illegally fishing in a protected marine area off the coast of Antarctica on an international blacklist.
Foreign Affairs Minister Murray McCully this afternoon confirmed a patrolling New Zealand Airforce Orion had found the Xiong Nu Baru 33 and Sima Qian Baru 22 vessels fishing in a Ross Sea area administered by the Commission for the Conservation of Antarctic Marine Living Resources (CCAMLR) in February.
Both vessels were on the organisation's "illegal, unreported and unregulated (IUU)" blacklist.
One of the ships was using deep-sea gillnets, which are banned in the area.
Mr McCully said the discovery was a "grave concern" he would raise with the North Korean Government.
The Government had also reported its findings to the CCAMLR Commission in an attempt to ensure its 25 member states do not allow the vessels to access their ports or allow them to import fish they catch, he said.
"The detection of these illegal, unreported and unregulated fishing vessels in the Southern Ocean is of grave concern to New Zealand.
"The New Zealand Government will be lodging its concerns about these vessels with the Government of the Democratic People's Republic of Korea."
Fisheries Minister Phil Heatley said the illegal fishing methods the vessels were using threatened the sustainability of fish stocks in the Ross Sea.
"Deep-sea gill netting and associated ghost-fishing by lost and discarded nets have serious detrimental effects on the marine environment and many marine species," he said.
"Illegal, unreported and unregulated fishing poses a severe threat to the sustainability of valuable toothfish stocks and has caused considerable environmental damage in the Southern Ocean."
New naval off-shore patrol vessels, which have been undergoing sea trials, are set to enhance New Zealand's maritime patrol capability in future seasons.