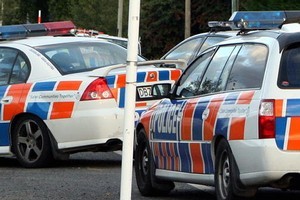 A police officer was beaten about the head so savagely yesterday he blacked out - but he still managed to get up and chase his attacker.
The 32-year-old constable was called to a West Harbour address just after 6am yesterday after it was reported that a burglar had been disturbed in the house.
While his colleague spoke to the occupants of the house, the constable went to check the surrounding area.
Waitakere Area Commander Inspector Gary Davey said the constable saw a man in Manutewhau Park.
"He approached the man and began talking to him," he said. "Everything seemed fine and calm and then the officer was king hit out of the blue and knocked to the ground.
"When he was on the ground he was punched multiple times in the head."
The officer was knocked unconscious. When he came to, he managed to pepper-spray his attacker and chase him through the park.
As he ran he called for back-up. The alleged offender was later found at another property - which he is also believed to have broken in to.
The attack comes one day after Commissioner Peter Marshall, who took over the role on Monday, spoke in support of tougher penalties for those who assaulted police officers.
"I would have absolutely no sympathy for someone who gets a slightly higher penalty for assaulting police," he said on Tuesday.
Mr Marshall also supported greater access to Tasers, including one in every frontline vehicle, and firearms for frontline police.
"If any police officer needs a firearm at any time, day or night, for operational reasons, he or she shall have it," he said.
"I would like to see all operational vehicles with the ability to have a rifle, a Glock, a Taser and ballistic armour."
The man accused of yesterday's attack appeared in the Waitakere District Court on charges of wounding with intent and threatening to kill the officer.
He is also facing two counts of burglary and one of breaching bail.
Mr Davey, Waitemata District Commander Superintendent Bill Searle and Deputy Commissioner Mike Bush visited the officer in North Shore Hospital yesterday, where he had a CAT scan to check for skull and facial fractures.
The scan was clear and he was discharged late yesterday afternoon.
Mr Davey said the officer was "very sore".
"He has a huge amount of swelling around his eye, the side of his head and face."
Tactical response manager Inspector Rod Fraser said the attack was disappointing.
"The officer is a really good guy, a really nice guy. He does a really good job," he said.
"He's a hard worker and I'm very disappointed that this happened to him."
Mr Fraser also visited the constable yesterday.
"His head isn't looking so good at the moment, he's battered and bruised."