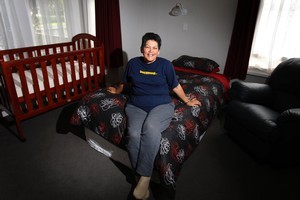 A new home for vulnerable teen parents has opened in Onehunga and its housemother hopes the young mums will learn from each other to be good parents.
Housing five teens across two neighbouring properties, the development is one of seven supported by the Government at a cost of $6.2 million over four years.
Private church-based homes such as Auckland's Bethany Centre and Christchurch's Holly House have a long history of this type of approach.
But direct government support of homes is a new and different way to care for teens who may live in unsafe or overcrowded homes.
The country has the second highest teenage birth rate in the developed world, at 29.6 per 1000 women under 20.
In 2009 there were 4670 births to teenagers - half of them to Maori women.
Raelene Paki, the house-mother, and her husband Rei have raised a family of six daughters. All have flown the coop and the youngest is now 28.
The couple will supervise the house, helping the young women to learn how to care for and bond with a newborn, good health, budgeting and wider parenting skills.
Mrs Paki said being in close contact with other young mums would help them to grow together.
"The fact is there are other girls in their position. Say, baby is crying; one of them might be able to go, 'Well, I did this to settle them down, or this'. They'll be together, and they'll be able to learn from others their own age."
Child, Youth and Family has contracted the Youth Horizons Trust to run the home.
It will be open for teens aged 13 to 19 who, depending on their situation, will stay about six months, with ongoing support for a year.
Youth Horizons programme manager Kapeliele Su'a said there had been a need for targeted home services for teens and it was almost like homing solutions had fallen out of fashion. "I think there has been a gap, but I think it's fantastic that CYF has seen there is a need and are trying to bridge that gap."
The home would emphasise the babies' health and wellbeing in initial stages but as the teens' stay lengthened, a focus would shift to education options and a plan to reintegrate them into the community.
"We want them to know this is not the end of their lives," Mr Su'a said. "We want them to be fully functioning members of society and we're going to support them to get there, in the first instance by being good parents."
Social Development Minister Paula Bennett is behind the initiative.
"I passionately believe they'll make a difference for teen parents," she said.
"The homes are run by highly skilled, caring people who will wrap love and support around these teens and help them learn to be good parents."
TEENAGE BIRTHS
29.6 per 1000 women under 20.
NZ second highest rate in developed world.
Two-thirds of all teen births to mums aged 18 or 19.
Maori teen birth rate four times higher than non-Maori.