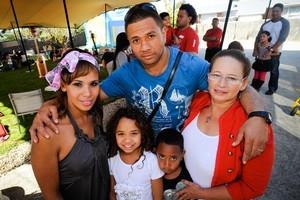 Rugby star Pita Alatini's family have made the Japanese seaside town of Kamaishi their home for the past five years - so when it was devastated by last month's tsunami he knew he had to stay to help.
But when he flew into Auckland yesterday, the hugs and tears showed that New Zealand would always be his home.
Family and friends threw a surprise party at Alatini's Otara home yesterday to celebrate his return after three long weeks working with his rugby teammates clearing debris and helping people left homeless.
"It's awesome to be back and celebrate life and what you've got," he said yesterday. "I'm just really happy to be home."
Alatini's wife Megan, their two youngest children Tiara, 8, and Trey, 6, and mother-in-law Barbara Cassie, who were in Japan, returned to New Zealand two weeks ago.
Megan Alatini recalled the terrifying moments after the earthquake struck on the day of her husband's 35th birthday.
The couple quickly got the family together before seeking shelter in the rugby clubrooms.
"The whole apartment started shaking and the sound was so loud. We just grabbed the kids. The clubhouse was on safe ground about 5km in the middle of the city.
"It was a massive war zone. Everything we knew that was beautiful was just rubble."
They stayed there for six days, without power and in temperatures between -5C and -10C, with little water and food. "We put together whatever food was available - we'd make weak vegetable soup and rice."
In spite of the total devastation around them, the kindness of locals amazed them.
"Through all of the heartache and devastation they were apologising for us having that experience in their country."
Officials from the New Zealand Embassy helped the family get a flight back to New Zealand.
But Pita Alatini stayed on to help. With the roads sometimes impassable by vehicles, he and the other players in the Seawaves rugby club helped carry relief supplies into the town.
A tearful Megan said: "It's absolutely amazing to have him home. It's not been until today that I have been able to breathe a massive sigh of relief."
Pita Alatini will return to Japan in four weeks' time to play rugby.
Megan said the couple were yet to make any decisions about their future and planned to take things a day at a time.