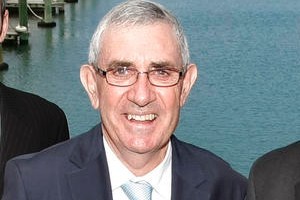 Sir Paul Callaghan is an intelligent man. He's also a decent man. So maybe he's on to something in pleading to the better natures of bludging Kiwi graduates who are refusing to pay their student loans while living overseas.
He's launched the Heke Appeal - Heroic Educated Kiwi Expatriates - asking for them to please repay their student loans. There are 85,000 graduates with outstanding loans living abroad and 35,000 of those are behind in their repayments.
There's an average debt of $18,000 per graduate and a collective total outstanding of $2 billion - money that New Zealand could do with right now.
Sir Paul is taking the softly, softly approach, posting on Facebook that if ex-pats really can't afford it they shouldn't feel pressured. No guilt, he says.
There should be. Why the hell should people be able to take out contracts and then renege on them?
They knew what the terms of their student loans would be, they signed their name to them and now some graduates are squealing like pigs because they've been asked to pay back what they owe.
Predictably a couple of them have come up with the argument that because the previous generation didn't have to pay for their education, they shouldn't have to either. But what they forget is that far fewer people were able to go to university when Sir Paul and his generation were attending.
You had to be bright to get to uni back then - not an average individual with an over-inflated idea of your own worth.
The excuses I've heard from some of them are specious. Those who are refusing to repay their loans are bludgers, pure and simple, and I see no reason why they shouldn't be treated the same as any other bludger.
For those who are screaming about the high interest rate on their loans, interest rates that they knew about when they borrowed the money, Sir Paul has an idea - take out a personal loan at a lower interest rate from a bank and pay off your student loan that way.
To call the appeal offensive and to claim that graduates are the poorest and most indebted demographic - as two ex-pat Kiwis living in Hong Kong did - shows how entitled some graduates believe themselves to be. There's nothing special or particularly talented about people who either renege on contracts or who don't understand them, and it's time we either got tough on these delusional bludgers or we change the system altogether.
Both systems of funding tertiary education have their merits - I'd be quite happy to see taxpayers fund the total cost of educating a few talented and hardworking people.
Equally, if all comers want a tertiary education I don't mind loaning them the money so long as they pay it back. But what we have at the moment simply isn't working and it needs to change.
And appealing to the better nature of people who are, to all intents and purposes, thieves is not going to make a jot of difference.