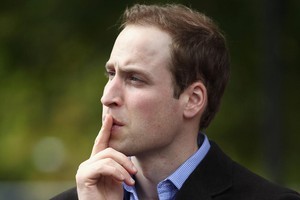 The counter-intuitive argument on behalf of the monarchy is that rather than envying the royal family, we should feel sorry for them.
Forget the palaces, estates, vast wealth, hot and cold running lackeys, and the whole panoply of privilege and entitlement: being a member of the royal family is no picnic.
For a start they have to put up with constant, obtrusive, often disrespectful scrutiny. Then there's the never-ending official engagements, the interminable ceremony and speechifying, having to engage with boring people at boring events without betraying a trace of boredom.
Most ordinary people wouldn't last a week. Perhaps not, but they don't get offered the choice. The monarchy is the last closed shop.
As we prepare for the royal wedding, routinely described as "fairy tale" even though it's merchandised like a Rolling Stones world tour, both sides of this anomalous existence are on display.
You'd hope the bottom feeders would lay off for a month, but no. If the media have their way, Princess Diana will be like Banquo's ghost, a spectral presence the happy couple won't be able to ignore.
For instance, an Associated Press story was flagged on the popular Huffington Post website with the headline "Is Prince William irrevocably damaged?"
It began innocuously enough: "William looks professional, speaks with easy self-confidence and interacts with people in all walks of life."
But it was all downhill from there: "Yet experts say the future king's self-assurance and quality tailoring could mask some damage caused by his parents' failed marriage and his mother's unexpected death. And, they say, big life events like his upcoming wedding are typical triggers for a turbulent emotional time."
Even though William and Kate are practically at the altar, a radio talk show psychiatrist dwelt on their long courtship, concluding that the prince is commitment-averse as a result of witnessing his mother's heartbreak.
Another wire service story claimed many Britons are already tired of the hype, to the point in some cases of planning to flee the country.
As usual with this sort of article, the sampling of the national mood was based on comments from less than half a dozen of Britain's 62 million people and dubious anecdotal evidence.
But at other times, the media react to the royals like medieval peasants, crediting them with extraordinary personal qualities and strengths on the basis of little or no evidence.
William's recent visit to New Zealand is a case in point. By virtue of not being his father he won ringing endorsements from various media outlets and commentators.
Noting that he didn't wear a suit and tie, this newspaper mused that the visit might have been his initiative rather than Buckingham Palace's since "his attire suggests he is making his own decisions".
A more cautious extrapolation would be that his attire suggested he was making his own decisions about his attire.
The contrast between William's presence and his father's phoned-in offer of architectural advice on the rebuilding of Christchurch prompted the Herald gossip columnist to float the idea that after Queen Elizabeth, New Zealand should pass on Charles and install his elder son as head of state.
It would raise interesting constitutional issues, and perhaps place us in the dubious company of those pre-World War I failed states which hawked their thrones around the salons of Europe.
But William has clearly inherited his mother's empathy and ability to connect with people, in person and via the air waves. The Herald editorial view that he's the monarchy's last, best hope in this part of the world is almost certainly correct.
The recent tawdry revelations concerning Prince Andrew and his ex-wife are further proof, if any were needed, that the Queen's children are out of time, hopelessly distanced from what it will take to be a relevant royal deep in the 21st century, assuming such a thing is possible.
Prince Charles seems an increasingly remote, anachronistic figure.
And if we have to have a king, let's have one who likes rugby.