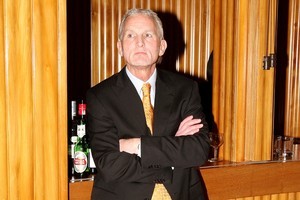 Controversial Councillor Michael Laws is refusing to attend Wanganui District Council committee meetings because he objects to their timing.
At yesterday's community and environment committee meeting, Mr Laws gave his apology for all committee meetings, saying the start time of 2pm was "impossible".
Mr Laws has not attended any committee meetings since being voted in as a councillor in October 2010 but has attended all full council meetings.
Councillors are expected to attend three committee meetings and one full council meeting every six weeks, as well as workshops and occasional special or extraordinary meetings.
Council standing orders state that if a councillor misses four consecutive council meetings, and has not had an apology accepted for their absence, then they would cease to be a member, and an extraordinary vacancy would be created.
Councillor Philippa Baker-Hogan, the committee chairwoman, said Mr Laws had sent his apology to the council's chief executive via email the previous day, and gave reasons for his non-attendance.
Mr Laws said he would not attend committee meetings "for the immediate future" due to child-minding responsibilities.
"The council set the committee meeting times after the election and despite objections from myself," he said.
"As mayor, I set committee meeting times at 4pm to ensure that all persons, regardless of employment or family circumstances, could stand for the district council.
I wanted working people and family carers to balance the generally aged council representatives by making council more family-friendly."
Most councillors expressed discomfort at Mr Laws' blanket apology, although the reasons for his non-attendance were not given at the meeting.
Councillor Rob Vinsen said he believed the issue should be discussed at a full council meeting.
"We've allowed this to go on for months, and I call on the mayor to take a stand on this issue," he said.
Councillor Ray Stevens said he believed councillors' salary should be based on attendance.
"This council should have decided to take a small salary and had a meeting allowance, but now it's too late."
Deputy Mayor Rangi Wills said he would accept Mr Laws' apology in the short term, if for a good reason.
"But if it's for the rest of the year - well, I can't accept that."
Councillors eventually agreed to accept Mr Laws' apology for yesterday's meeting only, with Mr Vinsen voting against the decision and Councillor Allan Anderson abstaining.
Wanganui Mayor Annette Main agreed to raise the issue at the next full council meeting.
For more articles from this region, go to Wanganui Chronicle