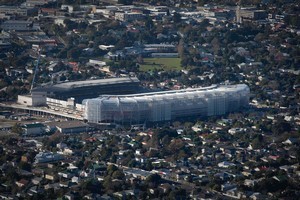 Auckland Council has agreed to pick up the $2.9 million tab it will cost to host three additional Rugby World Cup games.
Auckland will host two quarter-finals at Eden Park and a pool game at North Harbour stadium as a result of the Christchurch earthquake damaging AMI Stadium.
The Council has agreed 12 votes to 7 to provide $2.24 million in additional funding to host the extra games. It has also approved $625,000 towards developing a new broadcast tower at North Harbour Stadium.
Councillors have debated the issue for several hours this afternoon and it has become heated at times.
Some are asking where the money will come from and what impact it will have on ratepayers.
Ratepayers are already putting up $100 million for the cup, including $65 million for upgrading Eden Park and surrounding infrastructure and $35 million for running costs, such as traffic management and the waterfront "party central".
- Newstalk ZB, NZ Herald staff