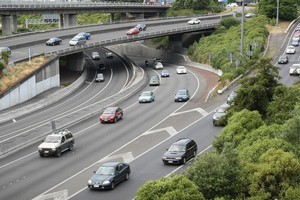 Auckland Transport - which controls public assets worth $11.6 billion - is under fire from the Automobile Association, which is accusing it of being too secretive.
The association made its attack while the council-controlled agency's non-elected board was taking twice as long to conduct business in closed session yesterday as it did to work through an open meeting in themorning.
AA spokesman Simon Lambourne said it was time for the Auckland Council to remind its transport arm that it was a local government entity "and that Aucklanders expect transparent governance of the region's transport issues and assets".
"Most of Auckland's transport governance is being undertaken in complete secrecy and this is unacceptable," he said.
"It is preventing any public scrutiny of their behaviour and it is making a mockery of local government accountability."
Mr Lambourne, who has written to Auckland Mayor Len Brown urging him to make the agency become more open, was upset that a brief agenda was issued one day before yesterday's public meeting and that it made no reference to a second meeting to be held in closed session.
He was also annoyed that reports for each agenda item were not available before the meeting, leaving him and others with little time to digest information before it was dealt with by Auckland Transport's directors.
The agency communications manager, Wally Thomas, denied that its governance was being conducted in "complete secrecy", saying it made every effort to ensure agendas for open monthly meetings became public as soon as practicable.
He promised that items to be discussed confidentially would be set out in future public agendas, and he gave the Herald lists of what was dealt with behind closed doors yesterday and last month.
But he said it was not the board's intention to release staff reports before its members were able to discuss and debate them.
Mr Thomas disclosed that the board spent three hours in closed session yesterday, after wrapping up its public meeting in an hour and a half, but said most of the time was spent on setting priorities for capital projects.
He said that was an item of contractual or commercial sensitivity, but it would be put into the public arena during deliberations on the Auckland Council's spatial plan.
Other items dealt with in secret yesterday were the Government's review of a business case for a $2 billion central Auckland rail tunnel, KiwiRail's planned purchase of electric trains, and a busway for the $1.3 billion Auckland Manukau Eastern Transport Initiative.
Mr Lambourne said he was pleased Auckland Transport had agreed to provide lists of confidential business, but believed it was out of step with the rest of local government in refusing to provide staff reports before meetings.
Auckland Transport chairman Mark Ford said last night that staff reports were addressed to the board, and its members had every right to read them before anyone else.
Mayoral spokesman Glyn Jones said Mr Brown had made clear his desire for transparency among council-controlled organisations, and was working with them to ensure guidelines were followed.