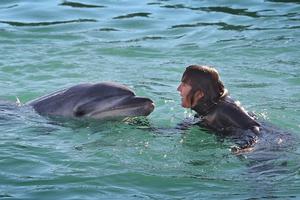 Moko the cheeky bottlenose dolphin has been named on Time magazine's website as one of history's most heroic animals.
Moko, eighth on a list of "top 10 heroic animals", was recognised for preventing a mother pygmy sperm whale and calf from beaching themselves on Mahia Beach, south of Gisborne, in 2008.
"Successfully doing what humans could not, Moko seemed to communicate with the two whales and lead them safely back into deeper water," the citation on the website said.
Moko became famous between 2007 and 2010 for playing with humans along the east coast of the North Island.
While Moko was in Gisborne during the summer of 2009 volunteer minders shadowed him to ensure he was kept safe over the busy summer period.
In February 2010, the Department of Conservation (DOC) warned swimmers to play it safe when swimming with Moko.
"Moko is renowned for `borrowing' boogie boards, surfboards and noodles, and if that is what you or your child is depending on to keep you safe and afloat - there is a problem," DOC field centre supervisor Fiona Hennessey said.
Moko was found dead on Matakana Island near Tauranga on July 7, 2010.
Time's list was prompted by a video which surfaced during the aftermath of Japan's recent earthquake devastation showing images of a dog who refused to leave behind another injured dog.
Among those animals which also made the top-10 cut were Alexander the Great's horse Bucephalus; Trakr - the dog who found the last survivor in New York's September 11 twin tower rubble; and Cher Ami - a pigeon who flew messages in France during World War 1, leading to the rescue of 194 soldiers in Major Charles Whittlesey's "Lost Battalion".
- NZPA