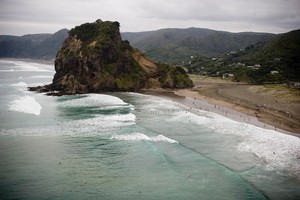 A Piha surfing instructor criticised for taking a group of teenagers into a rip on Monday continued to teach students yesterday and is standing by his actions.
Piha Surf School instructor Phil Wallis said he took the eight teenagers into the water on Monday because he wanted to teach them to handle a rip.
He has been criticised by surf lifeguards at the west coast beach who say he endangered the youngsters unnecessarily.
"They (the lessons) continued like normal and everyone was happy," Mr Wallis said yesterday.
The Department of Labour said last night that a complaint had been made about the incident on Monday but it had not yet decided whether to investigate.
Police said the matter had been a misunderstanding between Mr Wallis and lifeguards.
Late last night Surf Life Saving NZ's chief executive, Grant Florence, said his organisation was extremely concerned about the "lack of precautions and safety measures" in the incident.
" The rip that the students were caught in is notoriously unpredictable and combined with difficult conditions had the potential to be extremely dangerous."
The students should not have been allowed to enter the water.
Mr Wallis told the Herald the students, from the Henderson High School surf team, were all confident enough in the water to handle the conditions and said it was important that they were taught how to get out of a rip.
Images from television show Piha Rescue shows lifeguard Duncan Clarke pulling one boy from the water, with Mr Wallis holding him back and saying the boy did not need rescuing.
"You can hear the boy say he was okay, but they pulled him in to make it look more dramatic for the camera," Mr Wallis said.