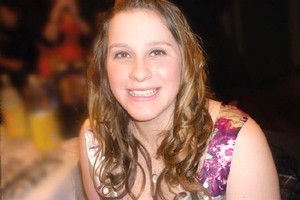 When Deborah Allfrey returned home to find her 21-year-old daughter Mickel struggling to breathe, she knew it was an asthma attack like no other.
Mrs Allfrey rushed to get her beloved daughter into the car and to the hospital.
"She still walked to the car, she still managed to tell me she couldn't breathe," Mrs Allfrey said.
These were to be the last words Mickel would say to her mother.
Mrs Allfrey was nearly out of the driveway, but she took one look at Mickel, knew she would not make it and called an ambulance.
Mrs Allfrey, an ambulance officer, and Simon George, who was visiting Mickel, performed CPR until an ambulance arrived and took her to the intensive care unit at Christchurch Hospital.
Mrs Allfrey said it was difficult to say what brought on the attack - Mickel's first serious asthma incident since January last year.
"It's hard to pinpoint what triggered it. It could be a number of things. Do we put it down to liquefaction dust?"
Mickel had been an active member of St John Youth since she turned 11 and was manager at the Fendalton division.
A group of St John members were among those who stayed by her side at the hospital.
"In the early stages when Mickel was going to get better the kids went out and brought back wishing stones.
"Each stone had a message wrapped around for Mickel to open when she got better. It was a really, really cool thing to do."
Mrs Allfrey said the intensive care unit let family and friends take in mementoes of Mickel's, among which was a meerkat from her stuffed toy collection.
She brought the meerkat toy from Auckland Zoo in November after she helped save a 4-year-old from one of the meerkat holes, Mrs Allfrey said.
"Kids were also reading her Harry Potter and we were allowed to play her Glee tapes."
But Mickel died on Monday, March 21.
Mrs Allfrey said Mickel was a "terrible asthmatic" in the sense that she used to wait to the last minute to ask for help. But even then her asthma had never got to that extent before.
"Mickel does not normally get to this stage. It was different, there wasn't the long onset. Apparently she had been fine in the morning."
A farewell party was to be held for Mickel later that night.
She was leaving to do her honours in international affairs at Victoria University after the earthquake had disrupted her studies at Canterbury University.
"Her asthma never stopped her doing anything, right from her dancing through to St John."
Mrs Allfrey said she had "3am meltdowns" over the loss of her and her husband Rodney's only child.
The couple were also hit by a second tragic death within the family.
Mr Allfrey's younger brother, Karl Allfrey, 49, died in a head-on crash in Queensland on his 52nd birthday - less than a week after Mickel's death.
Mrs Allfrey said her husband was "over there meeting with family who couldn't make it to Mickel's funeral and is to attend his brother's funeral on Monday".
But she said she had hope in knowing that Mickel's organs had helped the lives of at least seven others.
Her heart saved a teenage girl who had been given only weeks to live, Mrs Allfrey said.
Mickel's funeral was held last Thursday. More than 500 people attended.
- APN