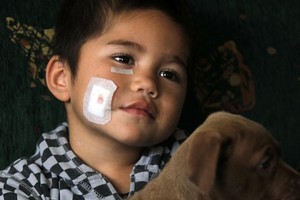 The New Zealand Kennel Club last night renewed its call for owners to be registered as well as dogs.
President John Perfect said he would meet Local Government Minister Rodney Hide in a couple of weeks to discuss plans for keeping people and dogs safer.
In 2009 Hide announced plans to relax dog control laws saying they were too restrictive on responsible owners.
Perfect said the Kennel Club's Canine Good Citizen programme was successful, but it needed strong Government support.
About 800 dog bites have been reported to councils since December 2007. The figure was compiled by Tauranga City Council environmental compliance and monitoring manager John Payne.
Payne said pitbulls were responsible for the most bites - 18 per cent - yet accounted for only 1.4 per cent of the dog population.
He said people should never pat a stranger's dog if the owner wasn't there and they didn't have permission.
SPCA president Bob Kerridge said children had to be taught how to approach dogs or not be allowed to do so.
In most cases, dogs felt threatened by the way children approached them. "It's the nature of a dog."
He said the SPCA offered education programmes to all New Zealand schools on how to handle animals safely.