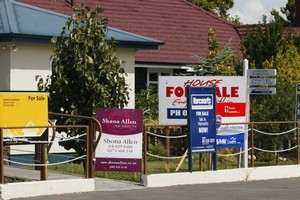 A new front has opened in the property selling war, with a service run by lawyers promising to undercut real estate agents by thousands of dollars.
A group of Auckland lawyers, working with the Auckland District Law Society, will next month launch a business to rival the traditional model offered by real estate agents.
The new company is ACRES (A Complete Real Estate System). Director and Auckland lawyer Mike Tolhurst said it was long overdue.
Lawyers' fees would be substantially less than agents' commissions, traditionally about 3 per cent to 4 per cent of the selling price.
He said clients will get the bonus of being legally protected throughout the selling process and believed that would appeal to Kiwis spooked by the prevalence of leaky homes.
"We're aiming to offer the public a far better deal. It will legally protect vendors and purchasers."
The lawyers, who operate through strict codes of conduct, will contract real estate professionals to organise adverts and run open homes. About a dozen lawyers are kicking off the service in the central city, North Shore and South Auckland, but the company hopes to expand nationwide.
Tolhurst said lawyers believed it was unfair to charge commission based on the sale price because the same amount of work was needed to sell most homes.
ACRES would only charge a fee if the property sold and the amount would be agreed upfront on a case-by-case basis.
Tolhurst expected the charge to be between $5000 and $10,000 a home.
The lawyers aren't the only people taking on established agents.
Mortgage broker Mike Pero has moved into the sales market promising a commission rate 1 per cent lower than the 3.95 per cent charged by "most" companies.
He claims that will save sellers between $3000 and $6000.
ACRES and Pero will be hoping to succeed where other cut-price agencies have failed.
The Joneses, which charged a flat-fee commission, folded in 2008 after just 18 months.
Tolhurst said his company, which has been in the works for about 18 months, was more likely to succeed because lawyers already had their own client bases and other sources of revenue.
"There's no big capital input or chain of offices to set up," he said.
Real Estate Institute chief executive Helen O'Sullivan said lawyers could provide a "competitive offering" and legal skills but questioned their marketing backgrounds.
"I will be interested to see how they make the crossover into the business."
She said consumers should remember some real estate companies had up to 1700 agents.
"They have an extended network and marketing reach."
$10,000 IN FEES SAVED
Craig Hutchinson reckons he saved about $10,000 in fees by using his lawyer to sell his late mother's Auckland home.
When Hutchinson and a sibling inherited the two-bedroom home in Waterview they consulted real estate agents and checked on similar sales to find out what it was worth.
Hutchinson said his lawyer, Mike Tolhurst, was offering a service similar to traditional agents, but he knew and trusted him and his fee was cheaper.
Through Tolhurst, he picked an agent he liked to do the marketing and open homes.
It took five weeks for the low-maintenance weatherboard home, with private backyard, to sell for $380,000.
The price was about $6000 more than a similar property nearby went for.
"It was fair market value - and the fees made it that much sweeter," he said.
Hutchinson said he paid $7500 - a fee agreed upfront and which included marketing.
He claims other agents he consulted would have charged him about $10,000 more.
Hutchison said the savings were much needed. He owns an industrial cutting tools business which has been hit hard by the Christchurch earthquakes.