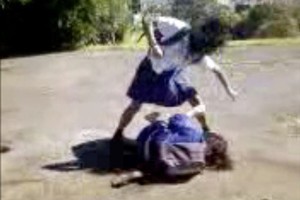 A 15-year-old schoolgirl was savagely attacked by a bully after she went to her deputy principal to say her attacker had warned her she would be stabbed.
Wanganui Girls College student Robin de Jong was chased down by a teenage girl and subjected to a savage assault, which included 24 punches and a head stomping.
The vicious beating was captured on video on another student's cellphone.
Last night, Robin said she believed the attack occurred because she revealed to school authorities that the girl who attacked her had warned her someone was going to stab her.
"I got concerned, so I told my teacher and we went to the deputy principal and told her."
The girl said the deputy principal talked to both girls separately.
Later that afternoon, Robin was waylaid after school by a group of five or six girls who were waiting for her.
The Wanganui attack follows a huge online debate over how to respond to bullying after the case of 16-year-old Casey Heynes.
The Sydney schoolboy became an overnight celebrity through a cellphone clip which showed him hurling his younger tormentor, Ritchard Gale, to the ground after years of bullying.
Yesterday, about 19,000 people - more than double the usual number - had taken part in an unscientific poll on nzherald.co.nz asking: "What is the best way for a victim to handle a school bully?"
Fifty-five per cent said the victim should hit back and 43.7 per cent opted for telling parents or a teacher.
The cellphone video of the March 8 attack in Wanganui shows Robin de Jong being grabbed by the hair and pulled down hard so the attacker can knee her twice in the head and knock her to the ground.
Once disabled, she is punched in the head and face 24 times.
Screaming in pain, she tries to protect herself - but her ordeal isn't over. Before the assailant turns and leaves, she kicks her victim in the back and stomps on her head.
The assault left Robin unconscious and bleeding from her ears. She also had a swollen jaw, grazes on her legs and bruised hips.
The attacker has appeared in the Wanganui Youth Court on a charge of injuring with intent to cause grievous bodily harm, and is to reappear on May 12.
She cannot be named because of her age.
Last night, Robin said she planned to leave town next week.
"I always have flashbacks of what happened and it's real hard to sleep at night," she told One News.
"I'm scared to go out by myself, for safety reasons. Even when I walk down the road, I always look back to see if anyone is there, because you never know."
Her mother, Marelle de Jong, found her lying beaten, bleeding and unconscious on the grass after being told of the assault by a neighbour.
Fighting back tears, Ms de Jong said seeing her daughter in such a state was "the most horrible thing ever".
"It just can't happen at all, it's not fair. Not just for my daughter but for all children. It shouldn't happen at school, it shouldn't even happen in the streets. But it is and the punishment they get isn't enough."
Ms de Jong said parents also had responsibility for their children's behaviour. The attitude of the parents of the alleged attacker had been "very disappointing".
"If my daughter was the one doing the bullying, I'd put a stop to it."
Senior Sergeant Darcy Forrester of Wanganui police yesterday said the investigation included interviewing witnesses to determine if there was any other offending by anyone else.
Wanganui Girls College principal Vivianne Murphy said the girl had been expelled, which was the "strongest action the board can take".
Ms Murphy said her thoughts were with Robin. The school was doing everything it could to prevent the film of the attack being passed on and had been making students remove copies from their phones.
* nzherald.co.nz received footage of the attack but chose not to publish it because of the extreme violence shown.
THE DAMAGE
* Kneed twice in the head
* Punched 24 times
* Kicked once in the back
* Stomped once on the head
- additional reporting: Wanganui Chronicle