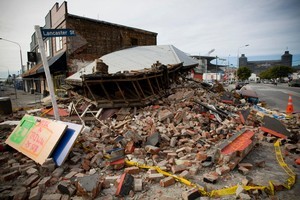 If truth is the first casualty of war, freedom is the first casualty of disaster. The ordinary freedom to make adult decisions about personal safety.
The frustration and fury of small business owners who tried to break the cordon around central Christchurch on Monday can be imagined. It has been a month. What is going on in there?
On Wednesday night the national controller of Civil Defence, Steve Brazier, and his minister, John Carter, had a meeting with Canterbury business organisations. Next day Carter issued a statement that was less than electrifying.
"Civil Defence is aware of the importance .. and is working with business leaders to address issues around access ...
"The national controller will do a stocktake of buildings within the cordoned red zone so business owners can find out about the current state of their premises. He will work with leading business organisations to find out which businesses are in the affected buildings ..."
For crying out loud, if the national controller had the manpower to do a "stocktake" of that scale he could let every business owner in and have a safety person accompany each one if he thinks it necessary. That would quickly tell him what is where and provide a more useful stocktake for all concerned.
More likely, he hasn't got the manpower and he doesn't trust business owners to assess their risk. They will probably wait at the cordon another month, or two, or three, before they get his report.
Civil Defence is a sleepy hollow of bureaucracy at the best of times but you'd think a disaster would make it more inventive. Emergency response in this country seems to freeze on the principle that "safety is paramount".
Every time that phrase was intoned by the policeman in charge of the Pike River non-rescue I started barking at the TV. Safety is not paramount in a disaster. If it was, Japan wouldn't have exposed emergency crews to nuclear radiation at Fukushima this month.
Safety is a consideration to be weighed against the benefit to be gained from a calculated risk. At Pike River the risk was too high and the benefit never likely. At Christchurch the calculation is different.
Four weeks have passed since the big shake. Buildings left standing have had a summary inspection and given a sticker, red, yellow or green depending on how safe it may be to enter them. That was evidently for the guidance of rescue teams and engineers, it was not a reliable certification of safety.
It would do me. If my livelihood was locked up in a computer hard drive inside a building that had survived the February 22 shake with a few cracks and a coloured sticker, I'd want to take my chance. Or at least, I'd like the right to take my chance.
The culture of disaster control in this country appears to be that a material benefit can never warrant a risk to a human life. That principle sounds right but it is not, it is sanctimonious.
People risk a head-on collision driving to work every day. Disaster relief is selfless work.
Volunteers from local government, fire brigades and first aid agencies work in mud, rubble and danger to deal with dead bodies, trapped and traumatised people, anxious relatives and emotional survivors. Everyone looks to them for help and direction.
They are like an occupying military force while the state of emergency lasts, with power to requisition anything they need, order people out of houses and clear any area they think hazardous.
After the death, the stress and the destruction they have seen, a restoration of normal human activity is probably the last thing on their minds. When you have seen how treacherous normality has been, it must be hard to make any compromise with safety. And when you have control of the situation it must be hard to relinquish it.
Who wants property owners and small business tenants wandering about? What if the risks they might take means rescue workers would face more danger trying to save them? That will be the best argument Civil Defence controllers can make for keeping them out. But it is a principle that has been honoured in the breach. Managers of Christchurch's up-market department store Ballantynes were allowed into their building within days of the quake. One of them was on National Radio the next day, confident it could reopen.
Until more business people start wandering about, the city's centre has no prospect of recovery.
Once they can assess what they can salvage it is just possible a critical mass will see opportunities to sow some seeds of commercial revival. Let them evaluate the danger for themselves and respect their decision whatever it may be.
Disaster does not make infants of us.