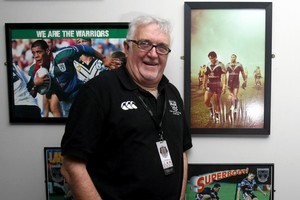 New Zealand's maddest knight, Sir Peter Leitch, is looking forward to getting back into his kayak after being plagued by a series of health issues.
This week, the Mad Butcher, a diabetic, was taken to hospital with chest pains, but was discharged once doctors gave him the all-clear.
"I just had a few days in there because I had a couple of chest pains, so I went in just to double-check that I'm okay. But it's all good," Sir Peter told the Herald.
"It's not pleasant, I can tell ya ... But the doctors said it's all sweet, so that's good."
The keen kayaker has a home on Waiheke Island and likes to paddle around the island's beautiful spots.
However, on January 29, Sir Peter had reconstructive knee surgery and has been on crutches ever since because the "brand new knee" is healing slowly.
"I've had a few little problems - story of my life," he said.
But Sir Peter has made plans with his mate Graham Henry, the All Blacks coach, to get back into kayaks in four or five months.
"Too right, I can't wait. Me and Graham Henry are planning to do a kayak trip soon when I get fit."
At the beginning of last year, the tireless Vodafone Warriors supporter announced he was battling a rare and aggressive form of bladder cancer that his brother had died from.
However, he remained upbeat about his diagnosis and used it as an opportunity to become a men's health advocate and preached the importance of seeing the doctor.
Last September, at the Warriors' end-of-season function at Auckland's SkyCity, he announced that he was winning his battle with the cancer.
The Mad Butcher chain, which Sir Peter started in Mangere more than 40 years ago, was sold in 2007, but he has stayed on as brand manager.
He has become a larger-than-life character noted for punctuating his speech with "mate" and "to be fair", which have become ingrained in New Zealand popular culture.