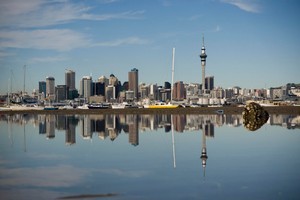 Auckland Mayor Len Brown yesterday opened the debate on a blueprint to unlock the city's economic potential and improve its quality of life.
Mr Brown said a day of talking by more than 400 guests at the Aotea Centre was a great start to "Auckland Unleashed" - a 220-page Auckland Plan discussion document, accompanied by videos to support his vision for public transport improvements and redevelopment of the waterfront.
"The spirit in this room needs to pervade Auckland," he said.
"What Aucklanders don't do well is to demonstrate their love and passion for this place. I sensed it in this room."
Mr Brown said he also felt a desire to be collaborative on looking 30 years into the future and a will for transformation of the city.
"We need to wrap great projects around a great plan and be bold."
He said two master plans were under way - one for the Wynyard Quarter on the waterfront and one for the city centre.
These would be included in the Auckland Plan, which would be out for public consultation in June.
Mr Brown said there was too much wasted potential in Auckland because too many people could not find a job they want. In 2009, more than 22,000 people moved to Australia for better opportunities.
He said seven business sectors held the key to turning Auckland around: tourism, education, food technology, finance, high-tech, the marine industry, and the film and the creative industries.
Consultant Greg Clark, billed as an international "thought leader" for city revitalisation, said a coalition of local and central government was essential for the city to succeed.
"There will be a difference of opinion but there's more chance of a deal here than in 20 other countries where central and local government are searching to find a common agenda."
Mr Clark said holding the Rugby World Cup 2011 would be important in showing the world that Auckland was "relevant".
World sporting events had been used by Germany to show it was friendly, Beijing to show it was open and South Africa that it was relatively safe.
Another keynote speaker, Prime Minister John Key, said the legislation that created the modern Auckland would ensure the best platform to grow a prosperous and vibrant city.
Mr Key said Auckland had to be a place that people wanted to come to because research showed a flagship city mattered as a source of attracting investment and interest in a country.
The Government was ready to work alongside Auckland... "this is the place where a lot of tax revenue is generated".
Stephen Loosley, who is chairman of the Committee for Sydney, said: "Auckland should ask itself: Do we want to play in the game; how do we want to play it and where do we want to be placed?"
He said Sydney, with a population of 4.2 million, was a global city in competition with Singapore, Hong Kong and Shanghai - not Auckland - to compete for business, travellers and conventions.
"Plans alone don't take us forward," he said. "It's a matter of political resolve required to sustain progress for 10 years or more."
He said Auckland's governance reforms had left it well placed because Mayor Len Brown could speak for Auckland and fashion its own identity.
Speaker Adrienne Young-Cooper, who is deputy chair of the Auckland Waterfront Agency and Housing Corporation, called on the Government to legislate to set up an urban development Agency for Auckland which would have wide powers to plan, acquire land, and fund and develop infrastructure.