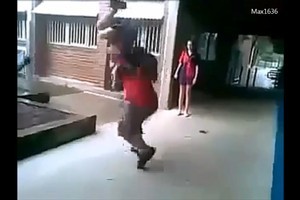 A Sydney bullying victim who struck back has the sympathy of New Zealand school leaders, but they still have zero tolerance for violence, even against bullies.
Student Casey Heynes, 16, is a household name after a cellphone video showed him being hit repeatedly by Year 7 student Ritchard Gale.
After taking multiple punches, Casey picked up the younger boy and hurled him to the ground.
Both boys were suspended, but on YouTube, where tribute videos - including one in which Casey has been refashioned as the Incredible Hulk - have been viewed by hundreds of thousands, there has been overwhelming support for the teenager.
Kelston Boys High School assistant principal Robert Solomone said that as a parent, his first reaction was a human one.
"Unfortunately, we would possibly say, 'Good on you' for retaliating. Definitely, as a parent as well, I'd want my boy to stand up to any kind of bullying, but it's still unacceptable.
"Nine times out of 10 we have a zero tolerance for any violence and we tend to suspend as well."
Westlake Girls High School principal Alison Gernhoefer said she would not be so quick to suspend if a similar situation happened at her school, because it was clear both students needed help, one to change his bullying ways and the other for self-esteem and confidence issues.
"It's pretty sad, isn't it? The kid obviously has put up with bullying for a long time and he was driven to retaliating. Good parents would say, 'Don't retaliate, just walk away', but it's pretty hard to do when this lad has had this type of experience."
Students would face punishment but maturity levels should be taken into account. "Kids are just kids and they're growing up. What we'd get them to do is face what they've done wrong and try to improve behaviour."
Mt Albert Grammar headmaster Dale Burden said it was unfortunate that Casey apparently had to deal with the problem by himself for so long.
"Our hope would be that the kid could go and talk to someone."
But Children's Commissioner John Angus has sounded a word of warning about the way the video has attained a sort of cult status.
"The recording and distribution of this incident has meant the case has taken a life of its own.
"What was obviously quite a scary and violent assault has now become a piece of entertainment. And it potentially re-victimises [both boys].
"While I can understand the built-up frustration of this bullied student, it's a shame that his violent actions have turned him into a hero of sorts."