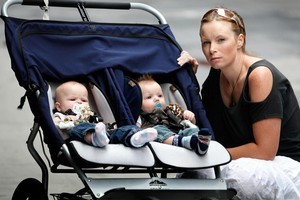 New mum Vanessa Mealings would welcome any change that made it easier for her to stay at home in the first year of her children's lives - especially extended paid parental leave.
Mrs Mealings, mum to 5-month-old twins Ty and Indy and 2-year-old Oliver, is in the midst of researching the costs of early childhood care and trying to decide when to go back to work.
If she waits until Oliver turns 3 and is entitled to a 20-hour week subsidy, it will cost about $800 a week to have all three children in fulltime care - a cost that hardly makes returning to work worthwhile.
"We have just started looking into whether or not I go back. For the [twins] it would be $600 a week and that's averaging ... all the places we have looked at. If it was just [the twins] then it may still be worthwhile going back but having a 2-year-old it becomes $800 a week and by the time I drove in [to work] and pay for parking and petrol it's not worth me returning."
Mrs Mealings, an image handler who works in Auckland's CBD, and her husband Scott are now considering other options.
One involves her being at home with the children during the day and then working night and weekend shifts.
"That will be a pretty big strain on Scott being at home with three little kids at night by himself and a strain for me finishing work early morning and then getting up at whatever time the kids get up - but it's the only way that it's feasible for me to come back to work."
Mrs Mealings said extending paid parental leave beyond the current 14 weeks would make it easier to stay at home for the first year.
It might even allow her and her husband to save a small amount of money for childcare, allowing her to go back to work during the day and have more time at home with her whole family.