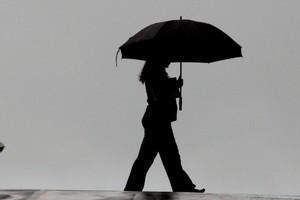 Heavy rain is on the way today for much of the North Island, with as much 200mm for some areas today and tomorrow, MetService forecasts.
A heavy rain warning is in place for Northland, Auckland, the Coromandel Peninsula, Bay Of Plenty, Rotorua, and Gisborne.
A low over the north Tasman Sea is expected to deepen and approach northern New Zealand today, crossing the island tomorrow.
A strong, moist northeast flow ahead of the low should bring a period of "very heavy rain to northern parts of the North Island" today and tomorrow, MetService forecaster Eric Brenstrum says.
Gisborne is first in the firing line - forecast to receive around 100mm of rain from this morning through till tomorrow afternoon, but as much as 200mm could fall on the ranges north of Tolaga Bay from 9am today to 3pm tomorrow.
This afternoon heavy rain should spread from the Far North down to Auckland and Coromandel Peninsula, reaching the Bay of Islands this evening.
About 100 to 150mm of rain is expected in the hills and ranges of these regions during an 18 to 24 hour period, with 60 to 100mm likely about lower lying areas, MetService says.
From 2pm today to 8am tomorrow, 90 to 120mm of rain is expected north of Orewa, especially about the hills, with 50 to 80mm likely elsewhere.
In the 18 to 20 hours from 4pm today, MetService forecasts 120 to 180mm of rain about the Coromandel Ranges, with 70 to 100mm elsewhere on the peninsula.
Mr Brenstrum warned the heavy rain may lead to rapidly rising rivers and streams, slips, and flooding.
"Rainfall intensities could briefly reach 25 to 50mm per hour for a time, which would lead to localised surface flooding and slips. The rain, combined with strong onshore winds, could add to the very high tides putting some low lying coastal areas under threat of flooding," he said.