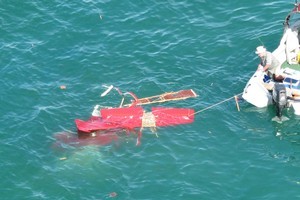 Dozens of people at a popular Auckland beach watched in horror as a small plane nosedived into the water 300m offshore, killing the pilot.
Witnesses said the plane's engine cut out before the red two-seater spiralled into the sea and disintegrated off Orewa beach shortly before 3pm yesterday.
Emergency services, including the Coastguard and the Westpac rescue helicopter, arrived quickly, but there were no survivors.
It was initially thought two people had been in the aircraft.
But a body was pulled from the water and police said the pilot was flying alone.
Richard Biddle was at the beach with friends when he saw the accident.
"Its engine cut out, then it just dropped. It went down in a nosedive and started spiralling before it hit the water. Then there was this gi-normous splash," said Mr Biddle.
"It totally disintegrated when it hit. It was just gone. You would imagine it would have bobbed back up again, but nothing did."
Two of Mr Biddle's friends, Linton Nisbet and Adam Penburthy, rode their jetskis to the crash area.
Mr Nisbet said they arrived within a minute, but nothing was left of the plane.
"There was debris floating everywhere. All we could find was a lifejacket, some headgear and a pair of shoes. The tail of the plane was floating just under the water, but there wasn't much else you could see."
He said a couple from a nearby boat had a snorkel set and dived to try to find the pilot.
"Heaps of boats came speeding over, so did the lifeguards. Then the police and Coastguard got here and the Westpac helicopter came and was circling about. We just couldn't find anything."
Mr Nisbet said a large slick spread across the water at the crash site as petrol leaked from the plane's damaged engine.
It took police about half an hour to find the body and retrieve it, said another witness, Kylie Nisbet.
"It was a horrible thing to have seen; someone being taken away in a body bag ... That's the last thing you'd want to see during a Sunday day at the beach."
The amateur-built plane was registered to a North Shore businessman, Geoff Logan, but the pilot had not been formally identified last night.
North Shore Aero Club president Alan Hull said Mr Logan bought the aircraft three months ago. It was his first plane.
"He was pretty excited about it, he loved flying it. It was a beautiful plane."
Mr Hull taught Mr Logan how to fly in the early 80s and they had been friends for nearly 30 years.
"I taught him how to fly here, at this [Dairy Flat] airbase - he was very passionate about it.
"He then went overseas for a number of years, and when he came back to New Zealand he came back to the club."
Mr Logan has three young children from a previous marriage, and a partner. "He was a great person; really nice, energetic and enthusiastic ... He loved flying, and flew most Sundays."
Mr Hull said he heard about the accident when another of the club's pilots flew over the crash site and saw the red debris floating in the water.
"I knew [who] it was straight away because it was a red plane - it was pretty shocking."