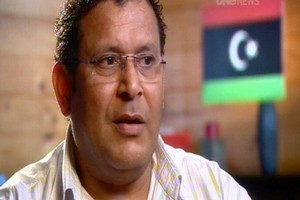 Baha Mabruk says the "small Libyan community of six" in Wellington are glued to television and computer screens and cannot believe the horror of war unfolding in their homeland.
"We feel very devastated and honestly, we are all just glued to the screens.
"When the news is not on, we get on the internet, and watching what is happening just makes you feel really terrible," said Mr Mabruk, who came to New Zealand 13 years ago.
"It's tough, really tough, because the people watching, they're our families, our friends, our own homes and we just worry about whether we'll see them again."
He said reports coming out of Libya were "limited" and the community learned more from friends and relatives, who kept them updated on what was "really happening".
Mr Mabruk said there were only about 50 Libyans in New Zealand. They were spread throughout the country but they remained "a tight community".
"We hear more from our friends and relatives, whom we contact by phone or internet, and what we hear from back home we share with the others in the community here," Mr Mabruk said.
"There's no freedom of speech or freedom of media in Libya. One Al Jazeera cameraman has been shot dead and four others have been arrested, and two others from the BBC have been arrested, so there's no good or accurate coverage from media there."
Foreign Minister Murray McCully yesterday said the New Zealand Government fully supported the decision to launch airstrikes after Muammar Gaddafi's refusal to implement a ceasefire.
He said representatives of the Arab League, France, Britain, the United States, and Canada had sent a clear message to Colonel Gaddafi that in the absence of a ceasefire, their countries would take action, as mandated by Security Council Resolution 1973.
New Zealand did not intend to make any practical contributions at this stage by sending military over.
"We have our hands full. There's nothing that suggests itself as a contribution we could make at this stage."
He said the most important thing to the countries leading the United Nations-mandated intervention was "overt support from countries like New Zealand".
Mr McCully said four New Zealanders remained in Libya and had said they did not wish to leave.
"Obviously, that's their call. They are people who have reasons to believe they can remain there safely - family connections and that sort of thing. Their consistent view has been that they would not leave, even if things did hot up."
Since February, 29 other New Zealanders had left.
Mr McCully said the Cabinet would consider today whether sanctions would be appropriate against Libya.
"We obviously want to indicate as strongly as we can our distaste for the regime in Libya and will certainly look at all appropriate steps in that light."
However, he said, New Zealand had limited dealings and trade with Libya.
New Zealand entered an education agreement with Libya last October for more than 300 Libyan secondary and tertiary students to study in New Zealand on Libyan Government scholarships, worth $30 million a year to New Zealand.
On TVNZ's Q+A yesterday, Prime Minister John Key said it was the kind of deal the Government was "taking a close look at" but he was reluctant to punish the people of Libya because New Zealand did not agree with Colonel Gaddafi's actions.
Australia has given $15 million to help UN aid agencies deal with refugees in the bordering countries of Tunisia and Egypt.