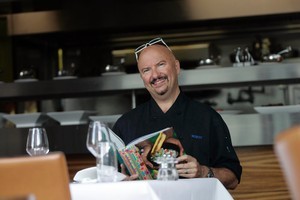 Forget Jamie Oliver - Kiwi chef Robert Oliver is author of the world's best cookbook.
The Hawke's Bay boy, now based in Shanghai, took top prize at the 2010 Gourmand World Cookbook Awards in Paris for Me'a Kai: The Food and Flavours of the South Pacific.
Speaking from Hong Kong, Oliver said he couldn't believe his book had won. "I'm still on a high." He said he phoned his parents in Havelock North after the announcement but could say little more than "we've won, we've won".
The annual event honours the best food and wine books from around the globe and attracts entries from about 150 countries.
Oliver's book beat big-name culinary stalwarts from France, Italy and the United States.
Britain's Independent newspaper dubbed it the "gastronomic upset of the night".
Nicola Legat from Random House New Zealand, which published Oliver's book, said she was "thrilled" and that the win was a breakthrough for the Pacific.
Oliver says his book celebrates food and cooks from island nations which have been largely ignored on the global food stage.
He says it is more a "vision" than a cookbook as it promotes local cooks, producers and sustainability rather than imported ingredients. "I want big hotels to use their local producers," said Oliver.
New Zealand tourism academic Dr Tracy Berno and photographer Shiri Ram also worked on the book.