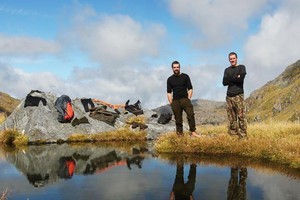 Two Kiwis who quit overseas careers to live in remote New Zealand bush for six months are getting a taste of celebrity adventurer Bear Grylls' lifestyle.
Jonathan Brown and Jason Menzies, both 25, have spent the past two months hunting deer in the South Island's remote bushlands.
Their journey is scheduled to finish in Te Ureweras in July.
They have had minimal contact with society and are surviving primarily on what they kill.
"We shoot animals and eat what we shoot," said Brown, of Raglan.
"We take all the meat off the bone and put them in bags ... and just take a bit off as we go."
The duo, who have been friends for a decade, began their adventure on Stewart Island where they spent 10 days in isolation.
They had to get used to having almost no contact with the outside world because they agreed to call home once every two or three weeks.
"It's been a bit crazy coming out to the earthquake news," Brown said this week.
Their hardest challenge so far was hunting in Fiordland, where they battled through snowy, unpredictable terrain with 30kg backpacks for 21 days.
"We ran out of food towards the end," said Brown.
"All we had was a bowl of porridge and half a sachet of [fruit drink] Raro for lunch.
"That went on for about four days. We were in there for three weeks and lost 5kg."
Brown said they bathed in rivers and camped in dense bush but admitted they hadn't been forced to drink their own urine or eat raw game like Grylls, star of international hit TV show Man vs Wild.
"It hasn't got that bad yet but I would if I had too," Brown said.
New Zealand Professional Hunting Guides Association treasurer John Berry said the duo put Grylls to shame.
"They won't have a pile of people filming them and looking after them," he said. "I think if Bear got dropped in it properly without any support he'd probably pooh his pants."
The friends came up with idea of going bush while at Waikato University seven years ago but put the challenge on hold for their careers.
Brown went to London where he worked as a town planner for the 2012 Olympics and Menzies, of Hamilton, worked as an exploration geologist in Papua New Guinea.
They quit their jobs and returned to New Zealand late last year to fulfil their hunting dream.
"It's one of those things you do now or never," Brown said. "We hope to open everyone's eyes to what is available in New Zealand ... there's a lot of country people wouldn't know about."
They also hoped their trip would help change the nation's view that deer were little more than pests. Brown said they were "a resource for New Zealand".
Grylls visited New Zealand earlier this month to film an episode of Man vs Wild.
He was guest star at events in Auckland and Wellington which raised funds for Wellington Children's Hospital, the Pike River Appeal and Canterbury earthquake relief fund.
You can track the hunters' progress at www.sixmonthsbush.webs.com