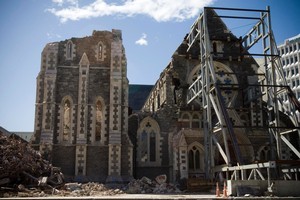 Here is what Christchurch had planned for September.
A small field of turf was to be laid in the Square in front of the Cathedral, about where the spire fell. Kids were going to play "ripper rugby" with velcro tags for tackles.
A little grandstand was to be erected for it.
Nearby there was going to be an inflated building where rugby nostalgia films would be running and serious fans could hear free talks on conditioning, physiotherapy, team management and the like. Some of the visiting team managers might have taken part.
The building was going to contain a replica of an early 20th century dressing shed made by students at the polytech. They were going to call the whole thing "World Ruck".
The Square was to be a designated fan zone with two big TV screens carrying all the games.
Every weekend Christchurch had a scheduled match and the route from the Square down Ferry Rd to Lancaster St was to be alive with buskers and other entertainment along the way. The city ran a trial of this for the Bledisloe Cup test last August and thousands did the walk.
They were going to call the route "Rugby Road".
England, Australia and Argentina were all going to start their campaigns in Christchurch and base themselves there for most of the pool round. Italy, Scotland, Russia and Georgia were each coming in for a few days.
John Filsell, recreation and sport manager for the council, planned to assign each team to a rugby club for hospitality and help if it wanted it. Schools were going to adopt a team.
In my dreams Robbie Deans is right now on the phone to John O'Neill, chief executive of the Australian Rugby Union. Mate, he is saying, I've got an idea.
We all know Christchurch couldn't remain a match venue for the World Cup. There was no way that enough visitors would go there now.
But the men I coach, your national rugby team, are not ordinary visitors. It may still be possible for the Wallabies to be based in Christchurch. I've been talking to the boys and they are up for it. They said to me, if your mother can shrug off a shake every other day, surely we can.
Think of it, John. You would be doing an immense favour for the strongest, keenest rugby city in New Zealand. I know I'm emotionally involved but this would be good for both sides, good for Canterbury, good for us.
Good for New Zealand - what is the Cup without Canterbury? - and good for Australia. Our two countries have never been so close, well not since Gallipoli, as they have been this summer. Julia Gillard and Tony Abbott attended the memorial in Christchurch yesterday. Let's do it.
I can promise you it would do wonders for our match preparation. We would get the Canterbury culture behind us and New Zealand's most parochial rugby fans roaring for us in every match until we face the All Blacks - if we face the All Blacks.
Think what would happen if the All Blacks didn't make it. Four million New Zealanders will be bereft and struggling to care who wins. If we have enabled Christchurch to have a piece of the Cup, we'd get rid of that "anyone but Australia" nonsense.
Mate, Australia is the only team that can do this for Christchurch. The others, especially England, have to go where their supporters will feel safe. Australians are close enough to make flying visits for matches and that is what they're expected to do. That's why all the Wallabies' pool games were put in the main centres.
As things stand now, John, the South Island is in danger of seeing very little of the Cup. The quarter-finals have gone and there is talk of our Italy game going to North Harbour. If we don't act fast we will be just another team based in Auckland.
We could easily fly to a game anywhere from Christchurch, where our allotted training ground, Rugby Park, has not been damaged and there will be no shortage of room in hotels that survived the quakes.
We would have to get used to aftershocks but we are big boys. If we are in buildings that stood up in the colossal shake of three weeks ago, we'll be fine.
Teams can't play there but it would be great if one or two could stay there. Whaddayathink?