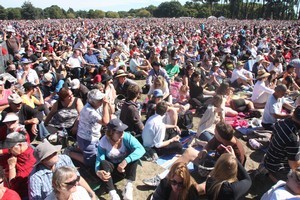 Life stood still again yesterday as we observed two minutes of silence at 12.51pm for the loss of loved ones: New Zealanders. Our valued foreign visitors. Japanese. Chinese. Australians. Filipinos. Israelis. Irish - and many more. And the loss heart-felt by a nation made weary through the impact of two Canterbury earthquakes and the Pike River coal mine disaster.
I watched the memorial service from a hotel in Sydney where many Kiwis (and Australians) were tuned into Sky's live coverage. Right from the moment the Maori warrior blew into his conch shell to call everyone to attention, the service was poignant and moving. Australians told me how they themselves had felt flattened when the February 22 quake shook "beautiful Christchurch" to its foundations. Coming on top of their own Queensland floods it was almost too much for them to bear.
But two national memorial services in New Zealand within a mere four months? Why is this happening in our beloved country?
If New Zealand reverts to default status our political leaders will quickly get back into "move on" mode.
Public attention is a fickle beast at best: Japan's horror. The upcoming Rugby World Cup series and machinations over who will win the next general election will inevitably divert our politicians' attention away from the challenge Christchurch faces.
Already news media are pegging back their quake coverage. People can only take so much. Attention shifts.
Christchurch is at risk of again becoming a "forgotten city" - a syndrome which Earthquake Commission head Ian Simpson says he noticed soon after the first September 4 quake. Simpson told me he felt that by last Christmas the rest of New Zealand had forgotten about the harsh lives many Christchurch residents were enduring as they waited for the earth to stop shaking so that the ground under the city could be strengthened and the rebuild begun.
After the September 4 quake, the EQC elected to repair quake-damaged houses rather than settle claims with cash settlements. It wanted to keep communities together. As Simpson said if the EQC had paid cheques to everyone the "biggest winners would have been the international tourist trade".
But that wait is now seven months long. Winter is fast approaching and while a royal commission has been announced to probe the Canterbury quake there is still no decision on the composition of the earthquake recovery authority which will be tasked with the challenge of getting Christchurch rebuilt from the CBD to the suburbs let alone any semblance of a game plan.
The memorial service as Peter Beck said yesterday was "another step on the journey" eloquently underlining that it is time to turn our attention to the plight of the living.
But in doing so New Zealand must not bypass a period of introspection into just why so many lives have been lost in Christchurch and at Pike River.
There is enough well-informed speculation to suggest the two royal commissions of inquiry (Pike River and the Canterbury earthquake) will shed a harsh spotlight on some aspects of a national character which has for far too long placed an over-emphasis on a "number eight wire" mentality and a "she'll be right" attitude.
How much did these national attributes play into a decision by the under-capitalised Pike River mining company to build a mine with few escape routes. And the mindset that led Cantabrians to be lulled into the belief that neither their beautiful city nor their very lives would be imperiled by any of many aftershocks that took place in the wake of the September 4 quake.
If there is some good to come from these disasters it must surely be the recognition that this mentality may have served the early colonists of New Zealand well.
And that we must now unashamedly adopt a more sophisticated attitude that demands greater professionalism and higher building and safety standards that reflect the fact that New Zealand is earthquake prone and that mining is inherently dangerous.
Not just standards for the future. But standards that must be applied retrospectively so that another earthquake in a populous area does not cost unnecessary life. And that mines are regularly policed by independent safety officials.
This desperate need for professionalism is not confined to earthquake readiness or mining safety.
Again and again we burn through our national capital: Our leaky building syndrome which resulted in our cities being decimated by rotting buildings was a multibillion-dollar disaster that would not have happened if we had adhered to top-notch building and material standards instead of "doing it on the cheap".
New Zealanders would not have burnt as much $7 billion of savings in the finance companies' collapse if our regulators and the political elite had not fiddled while NZ burned.
So, let's learn from this. The consequences of repetitive disasters that might have been mitigated by more sophisticated standards is national bankruptcy.