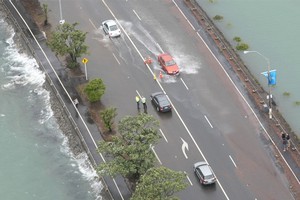 The king tides that inundated Auckland's coastline in January, closing roads and flooding homes, have been measured as the highest on record.
On January 23 the tide peaked at 4.13m at Ports of Auckland. It spilled over Tamaki Drive, washed into homes at Bucklands Beach and flowed into stores in downtown Auckland.
The Waitemata Harbour was so churned up that ferry services were cancelled.
The next day, an even larger tide of 4.67m was recorded in Onehunga.
Coastal engineer Richard Reinen-Hamill said the readings surpassed the previous record of 3.99m in 1936, which was until now considered a once-in-200-year event.
The freakish tide was generated by a rare combination of weather phenomena. The perigean spring tide - caused by the close orbit of the moon to earth and a fuller moon - was "lifted" by a low pressure system, and pushed by northeasterly winds into north-facing coastlines.
In addition, the mean sea level around New Zealand was already higher due to the La Nina weather cycle. The combined factors (tide, atmosphere, wind, climate) meant the predicted wave of 3.6m swelled to more than 4m.
Sea levels have also risen 12cm around New Zealand since 1936, when the previous record was observed.
Auckland Council investigations found 12 beaches sustained significant damage from January's storm event.
Worst off were Bucklands Beach and Eastern Beach, which suffered erosion of grass reserves, degraded seawalls, stripped trees and debris deposited on the road.
New Zealand is now facing short-term and long-term risks from raised sea levels.
Mr Reinen-Hamill said the next three years would see slightly higher than normal tidal patterns. Tides have an 18.6-year cycle, and the next peak is in 2014 when all the Earth's gravitational forces align.
In the long term, climate change is also expected to create larger tides by raising ocean levels.
"The level of 3.6m [which was predicted on January 23] could occur as regularly as every two weeks if we get the predicted sea level rise by 2050," said Mr Reinen-Hamill.
That threat could influence infrastructure changes by the Auckland Council, such as raised seawalls.
The council's acting manager of land and water, Marcus Herrmann, said: "It would be reasonable to take a precautionary approach to prepare for rising sea levels.
"We are looking to identify very clearly the areas around the Auckland region that are subject to ongoing instability through natural erosion or inundation."
Niwa coastal hazards expert Rob Bell said most seawalls were built with tidal extremes in mind. However, many of Auckland's protective barriers were constructed before comprehensive data on tides were available.
The Transport Agency has warned of more large swells from tomorrow until next Thursday. Waves of 3.6m could flood Auckland's Northwestern Motorway, but closures are not expected unless weather conditions worsen the effects of the tide.
WATER WATCH
* Large swells expected from tomorrow to Thursday.
* Waves of 3.6m could flood the Northwestern Motorway.
* Closures not likely unless weather conditions worsen effects of the tide.