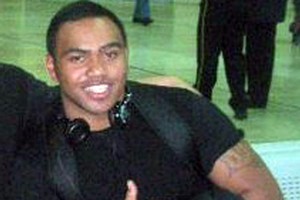 The family of a teenager who died while jetskiing on a Rotorua lake say they never wanted the matter to go to court and want the charges against his friends thrown out.
Ricardo Maaka and Teimana Harrison, both 18, appeared in the Rotorua District Court yesterday charged with operating a craft in a manner so as to cause unnecessary danger to any person or to property.
The charge relates to an incident at Lake Okareka on January 8 in which their friend Bishop Thompson was killed in a jetski accident.
Bishop, who was not wearing a lifejacket, disappeared after he fell from a jetski.
Police said he was hit by a jetski driven by Harrison. The body of Bishop, 17, a Rotorua Boys' High School student and a highly promising rugby player, was recovered five days later by police and navy dive teams.
When Judge Chris McGuire asked if any of Bishop's family were present to make victim impact statements, spokesman Mana Witoko stood up and addressed the court briefly.
Mr Witoko, who sat in a row in the public gallery next to Maaka's and Harrison's relatives, said his family had not wanted the boys to appear in court or to be charged.
"The family didn't even want this to come this far ... Actually we had tried to have it thrown out."
The maximum penalty for the charge is 12 months' imprisonment and/or a $10,000 fine.
But Judge McGuire did not enter convictions and referred the defendants to the Mana Social Services restorative justice programme.
The accused, who appeared in the dock wearing their school uniforms, drew rare praise from Judge McGuire for their attire and for showing respect to him, their families and their school.
Harrison's lawyer, Moana Dorset, said the officer in charge of the case, the families of both the accused and the deceased, and their school supported the restorative justice referral.
When the pair first appeared in court last month, it was indicated they could be candidates for diversion.
Outside the court, Mr Witoko, of Kaingaroa, said his family had met to clear the air with the families of Maaka and Harrison.
He said they bore no grudges against the two teenagers.
"No way. I told them at the lake that it was just an accident and we've got their backs and whatever they go through, we will go through as well.
"It's been tough for everyone but it's been good having them [Maaka and Harrison] around.
"We are missing one but you know we have gained plenty.
"They were tight-knit so it's been hard for the boys, which is understandable, but we are all going through the same thing and we have to carry on with life."
All three boys attended Rotorua Boys' High School.
Maaka and Harrison are scheduled to reappear in court on May 25.