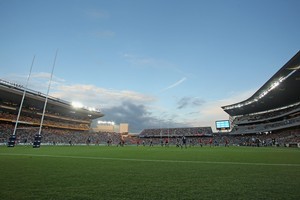 Most of the seven Rugby World Cup matches pulled from quake-damaged AMI Stadium are set to be moved to the North Island, despite the Government's desire to keep all the pool games in the South Island.
The high-profile match between Australia and Italy looks likely to be played at North Harbour Stadium, meaning at least three of Christchurch's games matches will move to Auckland.
Eden Park was announced yesterday as the new venue for the quarter-finals that were to have been played in Christchurch on October 8 and 9.
The Auckland stadium's 60,000-seat capacity and the fact that it is vacant that weekend - the other two quarter-finals are in Wellington - made that decision simple.
"Eden Park was the only logical alternative to stage two of the tournament's premier matches," said Rugby NZ 2011 chief executive Martin Snedden.
More difficult from a logistical and heart-strings standpoint will be the allocation of the five pool matches, including Argentina's games against England and Scotland.
Rugby World Cup Minister Murray McCully said yesterday the Government wanted Christchurch's five pool games to remain in the South Island.
But Mr Snedden said that while organisers were working hard to keep as many pool matches as possible in the South Island, two might have to be shifted across Cook Strait.
"Our instinct is today that three of the pool matches will go to the South Island," he said.
"I think that will probably result in each of the other venues around the South Island getting an extra match, but we'll tie that down in a few days.
"I also think it's probably likely that a couple will go to the North Island."
Auckland's hospitality and tourism industries will receive a huge boost from the decision.
RWC Auckland group chairwoman Rachael Dacy said services such as public transport, cleaning, waste and security would be increased.
"In terms of visitors, Auckland has matches allocated every single weekend except for that quarter-final weekend, so that means we have the capacity to welcome those additional visitors."
Auckland city councillor Cameron Brewer said the decision was bittersweet.
"There won't be one Auckland business person giving high-fives upon hearing the news," he said.
"We all feel sick for them [Christchurch]. It's a real shame for New Zealand business all round.
"A lot of visitors now won't get to the South Island, where the country's iconic beauty lies ... This is nothing for Auckland to celebrate."
But Auckland Mayor Len Brown said Aucklanders should not feel guilty.
"This is not an outcome that we wanted and we're doing this because it's required ... We regretfully stepped up."
Christchurch Mayor Bob Parker, who looked a dejected man at yesterday's announcement, said he felt "pretty gutted".
"From my heart, I will probably always fight this decision, that I will find hard to accept and perhaps even disagree with on some level.
"But in my head, what is important for us all to recognise is that this is an event that's bigger than Christchurch.
"We will get over it - we are Cantabs - and we're going to find the silver lining in everything. Just give us time."
Mr McCully said holders of tickets for the Christchurch matches would be offered refunds or tickets to reallocated games and the Government was discussing a travel deal to help such people get to Auckland on an "affordable basis".
The other South Island World Cup venues are Nelson's Trafalgar Park, Invercargill's Rugby Park and Dunedin's new stadium. All are smaller than Christchurch's 45,000-seat AMI Stadium.
It is unlikely Nelson or Invercargill will be considered for games between "big" nations.
Australia expect their two matches to be moved to Albany and Nelson - playing Italy at North Harbour Stadium on September 11 and Russia at Trafalgar Park on October 1.
Australian Rugby Union chief executive John O'Neill said yesterday's decision was tragic news, as Christchurch was a favourite venue for his country's team.
"We were going to spend 19 days there; it is [Wallaby coach] Robbie Deans' hometown and there were all sorts of strong connections for the Wallabies.
"We would like to stay close to Christchurch if we could, so perhaps Dunedin will end up as our base."
Deans, a former All Black, is a Canterbury local whose historic family homestead was wrecked by the first big earthquake on September 4.
He said he was not surprised by yesterday's decision.
"The people of Christchurch have more important issues to deal with as they endeavour to rebuild their city and their lives," Deans said.
Mr O'Neill said shifting the two quarter-finals to Auckland would not be difficult, but moving the other five matches would be "very challenging".
Invercargill could host England versus Georgia on September 18, meaning Argentina-Scotland or Argentina-England would be played in Dunedin.
Dunedin's under-construction roofed stadium has still to get clearance from the International Rugby Board and RNZ 2011, although Carisbrook Stadium Trust chairman Malcolm Farry said there "was no doubt" it would be ready by the August 1 deadline.
The city's historic Carisbrook ground is being maintained as a back-up venue.
Yesterday, World Cup organisers said contingency planning was at an advanced stage, but the allocation process was complex, as accommodation, transport and the broadcasting of matches had to be taken into account.
It is not only shifting the matches that is providing a logistical nightmare. Seven teams were to have used Christchurch as a training base for periods ranging from Argentina's three weeks to Georgia's three days.
Australia, England, Scotland, Italy and Russia were also to have been based in the city during the tournament.
Now, RNZ 2011 must find new homes for these teams.
Check tomorrow's New Zealand Herald for a free Rugby World Cup wall planner.