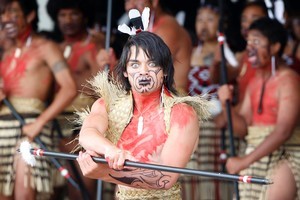 Thousands of students are coming together to celebrate culture through song, dance, haka and speech this week at the annual Secondary Schools Maori and Polynesian Festival.
About 9000 youngsters from 62 schools around Auckland - and some outside of the region - are participating in the ASB-sponsored event, which runs until Saturday.
Celebrating its 36th birthday, the festival has long been a popular event, attracting up to 90,000 spectators each year.
The opening ceremony yesterday featured performances - including Chinese, Indian, Korean, Tokelauan, Fijian, Middle Eastern, Malaysian and Thai items - on the diversity stage, which has become a firm favourite with festival-goers.
Performances included a Chinese dragon dance from Ormiston Senior College and an African dance by students from Waitakere College. Several kapa haka groups also took to the stage.
Year 12 student Stone Kelly was among those from Selwyn College who gave a fiery chest-slapping performance, pleasing the crowd.
The theme for this year's PolyFest is "Diversity is the magic, unity is the joy".
Event director Tania Karauria acknowledged that it was a way of bringing people together to celebrate multicultural New Zealand.
"The ASB PolyFest celebrates the pride and passion of our Maori and Pacific Island communities through cultural song, dance, speech and art.
"It is a place where we celebrate youth performance and all that they bring to the future."
This year's event will also include students who will perform in a different way, competing in speech competitions in their native tongue.
There will be six stages this year: Tongan, Niuean, the Cook Islands, Maori, Samoan and the Diversity stage.
Food stalls will also be situated throughout the Manukau Sports Bowl, serving up both traditional and European-style food.
ASB POLYFEST:
- When: Today until Saturday
- When: Manukau Sports Bowl, Te Irirangi Drive, Manukau City
- Cost: $5, preschoolers free
- Don't forget a water bottle, hat and sunscreen