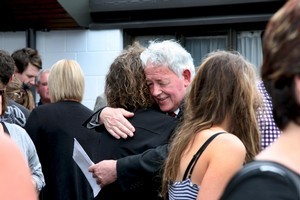 Families of the men who died in the Pike River disaster have accused receivers of prioritising selling the coal mine over recovering the bodies of their loved ones.
Receivers last week announced plans to sell the mine where 29 men died in an explosion on November 19.
State-owned mining company Solid Energy has revealed it will be among the bidders, while other unsolicited expressions are also being considered.
Bernie Monk, who lost his son Michael Monk in the Pike River disaster, said families of the dead felt their loved ones were being ignored as receivers courted potential buyers.
He said the group of families he represents were still desperate to see a recovery operation.
"The gloves are off now. Are you putting dollars before getting our men out of the mine? Three weeks ago we were told they were sending a robot in to see how bad the rockfall was.
It hasn't happened.
"They don't want to go down there. They want to sell the mine and walk away."
Receiver John Fisk said he was balancing the families' concerns with his legal requirement to get the best possible price for the Pike River mine.
He said it was not the receivers' responsibility to recover bodies - only to manage the assets of Pike River Coal Ltd.
The mine was still too unstable to launch a recovery operation in any case, he said.
"We've got a duty as receivers to get the best price reasonably obtainable at the time of sale. We have to go through the process to ensure we've discharged that duty.
"If a recovery became possible we would hand responsibility for the operation back to police."
A requirement to hand the mine over to police if that recovery operation became possible was likely to be a condition of any sale, said Mr Fisk.
"It won't just be on the level of the offer. There will be other factors that will be taken into account.
"While we don't have responsibility for body recovery, if we can see an opportunity where they can be recovered we will take it. Purchasers will need to take that into account when they're making an offer for the asset.
"We want to work with the families. We're very sympathetic for their position."
Grey District Mayor Tony Kokshoorn said receivers should still be focused on launching a recovery operation.
He said families could not have closure until they had something that remains of their loved ones back with them.
"Even if it is a buckle or anything. Closure for them is getting something back."
Solid Energy Chief executive Don Elder said recovering the 29 bodies still inside the mine would be a priority in his company's proposal to buy Pike River.
It was committed to addressing the "many challenges" of making the mine economically viable while respecting the wishes of the families of the dead, he said.
"As a non-negotiable part of that, the wishes of the families have to be a priority in considering all options including potential recovery, if feasible, of the 29 miners' bodies. The same applies to the unsecured creditors on the West Coast; any solution to invest in and work the mine needs to address that issue as a top priority."
Mr Monk said West Coast miners would rebel against any company that did not make recovering bodies a part of its plan for Pike River.
"I'm all for Solid Energy but if they're going to bring in a firm from somewhere else that's not going to get the bodies out then the Coasters won't rush to them, I tell you that."