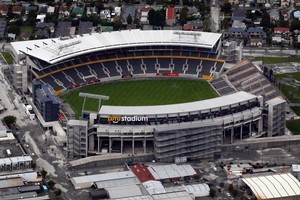 Labour leader Phil Goff has called for the Prime Minister to "come clean" about whether Christchurch will be ready to host Rugby World Cup games.
His comments come after a senior International Rugby Board source told Britain's Daily Telegraph an engineers' structural report of AMI Stadium, due to be published this week, is expected to be "bleak", and the city will lose its hosting rights.
The Telegraph website reports the stadium has sustained not only serious liquefaction to the pitch, but the engineer's report will confirm structural damage to the stands.
Mr Goff said John Key should front up to the people of Christchurch over what the reports he had received.
"I understand from international reporting that the IRB is going to rule it," Mr Goff said.
"If Mr Key is aware of that then I think it's time to come clean and just tell the people of Christchurch what the truth is.
"Giving them false hope is not going to help. All of us would have wished that it was possible to host the World Cup in Christchurch but if the evidence that Mr Key has got says that can't happen then he's just got to show some leadership and tell the people of Christchurch what he knows."
Even before the second quake in February there were questions over accomodation necessary for the matches to be held in the city. Furthermore, "we know that there are huge priorities in terms of just getting people's basic services back on".
"All of that points in the direction that make it unlikely.
"Now is the time for Mr Key to come clean with the people of Christchurch and just tell them what he knows and tell people the truth."
The Telegraph also reported the English rugby team, who were to be staying at the damaged Crowne Plaza hotel, are now likely to be based in Auckland for the tournament, which begins in September.
Christchurch is set to host two quarter-finals and five group stage games.
England, Australia, Italy, Argentina, Scotland, Russia and Georgia are set to play group matches in the city.
While hosting the games is seen as an important psychological boost by many for the hard-hit region, others see the resources better spent on rebuilding the city.
Yesterday Mr Key said he hoped to make a recommendation to the IRB - who make the final decision - and announce the outcome by the end of this week.
"We all acknowledge it's challenging, but that doesn't mean it's not impossible," Key said yesterday. "Yes, there is an emotional part of this, and obviously all of us, I think, want to see the Cup held in Christchurch.
"But unless it can be done in a way where it's in the best interests of both Cantabrians - and actually possible - and in the best interests of the Rugby World Cup and New Zealand's international image, it won't happen."
According to the Telegraph, the IRB's chief executive Mike Miller has guaranteed all the tournament's matches will be held in New Zealand even in Christchurch is ruled out as a venue, and contingency plans have been drawn up should AMI Stadium not be fit for games.
It says the English Rugby Football Union will learn next week where they will be based, with sources suggesting Auckland will be their new home for the tournament.
Fans who have purchased travel packages to Christchurch will be offered refunds or the opportunity to relocate to the new venues. Around 13,000 England supporters are expected to make the trip, most of which would likely be based in Christchurch.
"If changes need to be made, it will be made as flexible as is possible for people who have already made bookings," Mr Miller said.
"We will make sure people have options in front of them so their rights will be fully protected."
World Cup organisers told the Telegraph hospitality customers would receive refunds for any corporate seating or boxes hired in AMI Stadium if they do not wish to transfer it to the new venue.
However ordinary ticket holders have not yet received a similar assurance from organisers, but it is expected the tickets would be valid for the new venues.
Travelling fans may also have issues around accommodation booked and paid for in and around Christchurch for the tournament, the Telegraph says.
A senior IRB official, who wanted to remain anonymous, told the Weekend Herald it would be a "mammoth effort" to rebuild the city in time for the tournament.
"Most intelligent people would say the infrastructure and hotels would not be there and ready in time. And even if they were, would people want to go to Christchurch?" the official said. "There is a huge risk, a massive risk ... as regards further earthquakes."
The official stressed that a final decision might not be made until the board's next meeting on March 25.