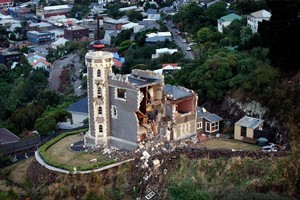 The pictures of Lyttelton's historic Timeball Station in ruins have broken the hearts of the Hanner family.
Lee Hanner, a DJ with Radio Avon in its heyday and now a land agent, lived in the castle-like building for eight years with his late wife Christina and their children Jacob and Fleur.
Fleur, now 23, and her husband Luke Milne, left Christchurch yesterday to live in Tauranga.
The damage around the port and the dangerous state of the Timeball building prevented a last visit to the place that was home until she was eight.
"It's devastating to see it like that, and there's been a few tears by all of us," said Mr Hanner.
"I'd love to see it rebuilt, but I think safety comes first.
"However, we lived there all those years and never felt a tremor."
Mrs Milne was married in December, and would have had the wedding photos taken at the Timeball had not the September quake closed it.
"It's heartbreaking, just awful, what's happened," she said.
"It was the coolest place to live, growing up there.
"Everyone wanted to have sleepovers at your house because it was like being in a castle."
Mr Hanner made up jokes for the children that the building had its own pet ghost.
Overlooking the inner harbour, it was opened in 1876 so the masters of ships in port could set their chronometers - used for calculating longitude - each day.
It was one of the few still in working order in the world.
Mr Hanner and his family moved into it in 1987 when the local council was looking for a live-in manager.
They stayed until 1995.
Looking after the Timeball Station fitted in perfectly with his 8pm to midnight shift at Radio Avon, said Mr Hanner.
"I'd get home about one in the morning and with the moonlight over the harbour and walking up to the building, it felt like going back 100 years," he said.
"I wouldn't have been surprised if I saw a sailing ship in the harbour!"
However, living there had a downside. It's a long, steep walk up from the car park, so coming home with all the groceries was a burden, as was shuttling up and down with all the presents on Christmas Day.
Visitors came from all over the world to look at the Timeball, he said.
The ball still used to be dropped at 1pm every Sunday, and winding it up was a 10 minute job.
Mr Hanner said it was sometimes a panic to get it done when he'd been delayed talking to a visitor.
He had a maritime connection himself. As a 15-year-old Auckland boy he went to sea as a deckboy on the Union Steam Ship Co's transtasman trader Karitane, but soon took a berth on a Norwegian tramp, the Norefjell.
This ship brought him to Lyttelton for the first time - and also to California, where he tracked down his father, who he had never met, in Los Angeles.
After five years at sea he cut his teeth as an announcer in the late 1960s on the Radio Hauraki pirate radio ship Tiri 2, on which he'd made a couple of voyages as a teenager from Auckland to Gisborne when it was the trading scow Kapuni.