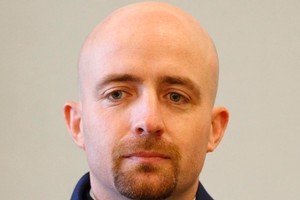 Smiling, police constable Jeremy Snow leaned towards the Crown prosecutor and kissed her on the cheek moments after a man was found guilty of trying to kill him.
Mr Snow was shot four times by a man the Crown described as a "smalltime drug dealer".
Yesterday, Neshanderan Rajgopaul, 29, was also found guilty of discharging a firearm with intent to cause grievous bodily harm, three charges of unlawfully possessing a firearm, two of assault with a weapon, and one each of receiving stolen property and possessing a class-A drug for supply.
He was found not guilty of one charge of unlawfully possessing a firearm.
The five-week trial in the High Court at Auckland ended when the jury delivered its verdicts after deliberating for almost four hours.
Mr Snow was shot at close range in the chest, elbow and both legs three days before Christmas 2009.
He almost bled to death, and was rescued by armed police.
He and Constable Robert Cato were on patrol in Papatoetoe when they saw a car with flashing indicators down a driveway and believed it was being broken into.
Inside the unit to which the driveway led, Rajgopaul and three friends had just finished smoking methamphetamine.
The Audi stationwagon parked outside was stolen. It also had stolen number plates, and a sawn-off shotgun in the back.
When the officers pulled up, Rajgopaul and his friend Darrin Court hid in a bedroom.
They sent a third man, Gavin Lomas, to talk to the constables while they tried to escape. Lomas told police the car belonged to a friend who had gone out drinking, but Mr Snow heard leaves rustling in the back garden and went to investigate.
Shining his torch, he saw a man trying to hide behind a tree. He later identified the man as Rajgopaul.
Mr Snow told the court that the man ran from him before turning, crouching down on one knee and opening fire at him.
The constable was shot four times. One of the bullets hit him in the lower chest and was stopped by his police notebook.
Mr Snow was also shot in his femoral artery.
"I was losing a lot of blood from my left leg and I was finding it hard to breathe," he said in his evidence.
Lying on the ground, he turned off his torch so the gunman would not know where he was, and watched as the man went down the side of the house. Seconds later, a man he believed to be the same person came back towards him.
"At that moment I feared the male was coming back to execute me and finish me off," Mr Snow told the court, fighting back tears.
Mr Cato told the jury he heard Mr Snow screaming in pain.
"Immediately following the first volley shots, Jeremy screamed. Obviously he was in pain. I stopped. I was in shock, really."
Rajgopaul ran down the side of the house where he came face to face with his friend Lomas.
Lomas told the court he saw Rajgopaul raise his gun.
"I put my hands up and said, 'Hey, bro'. In a crazy way I was trying to calm him down. When I stood up and said, 'Hey, bro', he started shooting at me."
He was shot in the arm and ran down the driveway, jumped a fence and hid behind a brick letter box.
Rajgopaul also ran across nearby properties, dumping his gun, a holster and his shirt. He was arrested soon after by a dog handler as he hid under a hedge.
But Rajgopaul's lawyer, Ron Mansfield, told the jurors it was Rajgopaul's friend Darrin Court who fired the shots.
He said Court had arrest warrants out on him, and was hiding in the back of the Papatoetoe property when the shots were fired.
Rajgopaul told the jurors that he had not shot at Mr Snow.
"I walked towards him and then I was pushed, which is why I ended up on my hands and knees on the floor," he said.
But Court also gave evidence and also denied firing the shots: "I'm no angel but I'm telling you I didn't shoot no police officer."
Rajgopaul will be sentenced next month.