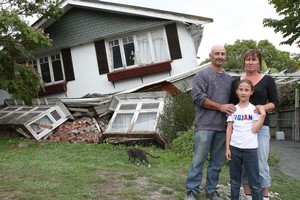 Three weeks after their lives were shattered by natural disaster, the people of Christchurch are wondering what their immediate future will look like as the city moves from emergency to recovery mode.
There are some signs the city is returning to something closer to normality. Joggers run along roads that not long ago were thick with sludge caused by liquefaction and business owners have been allowed to retrieve belongings from some central-city areas that had been sealed off. Some schools have reopened.
But strict cordons remain and some roads are still blocked.
Some residents are still without flushing toilets or a reliable power supply. Hundreds of kilometres of roads have been damaged and anxious homeowners in Avonside and Bexley wait to hear if their suburbs will be condemned.
Those people are a long way off even contemplating a return to Christchurch pre-February 22 or even pre-September 4, 2010.
Most people spoken to yesterday on city streets and in the worst-affected suburbs were sure of their long-term plans - they want to stay in Christchurch - but were asking what the next 12 months would bring.
When the February 22 quake hit, Norm Butcher made it outside within seconds of the first storey of his Woodham St home crashing down on the kitchen he had been standing in. Now, as well as being homeless he is also out of work because the shed at the rear of his house from which he runs his upholstery business has no electricity.
"We need to know what is happening ... where we will be in 12 months' time," he said.
Getting an answer as to when an assessor will be able to install a builder's box from which he can run an extension cord isn't easy.
Mr Butcher, wife Maree and their 10-year-old daughter Jasmine have been living with friends in Papanui but will probably need to rent a house bus or caravan because they can't find a house to rent that accepts pets.
"Who would rent to someone who has a St Bernard?"
But he is sure that staying in the city and dealing with the aftermath was the right thing to do.
"You're just going to come back to the same thing. You might as well muck in and get it done."
Avonside is possibly one suburb that will be condemned - but not if its residents have their way.
One man, who asked not to be named, was growing increasingly tired of the EQC bureaucracy. He didn't care if he was told it would be six weeks before an assessor would be there as long as it was a definite answer.
He could understand why some people were moving out, but felt he should stay for security. He said he found footsteps of would-be-looters in the mud and his neighbour had disturbed someone in the middle of the night lurking in the dark.
He was angry at suggestions the suburb was doomed. "I don't think you should make those sorts of comments until we know the facts."
Helen Crighton agrees. She lives with her family just down the road and was trying yesterday to get back to a routine after escaping the city for north Canterbury.
That routine involved dealing with house repairs and emptying the chemical toilet.
Talk of the mass demolitions was upsetting. "You do worry and hope it'll be the next street over ... This is our community; our school friends [live here].
But she doubted anyone would give up. "We're fighters, we're Cantabrians. You can't take that out of us."
166
death toll.
123 names released.
20
nationalities among the dead.
5177
ACC quake-related injury claims.
60,000
people fled Christchurch.
4 per cent
of population not expected to return.
1000+
rescuers descended on Christchurch from more than six nations.
22 days
in a national state of emergency.
5 per cent
of homes still without water.
4000
vehicles to be recovered from central business district.
17
schools still closed.
4000+
aftershocks since first big quake on September 4.
400+
police from outside city (reduced from 682).
902
Peak numbers of Defence Force personnel in Christchurch.