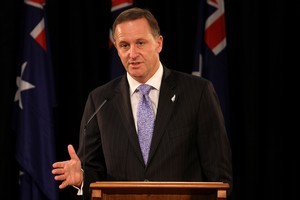 Prime Minister John Key will not discount criminal charges resulting from a royal commission of inquiry into the Christchurch earthquake if its findings warrant them.
Mr Key announced the royal commission yesterday to run alongside a technical Department of Building and Housing investigation into the buildings most badly damaged.
The commission will look at the whole central business district, but particularly the Canterbury Television and Pyne Gould Corporation buildings, whose collapse caused more than half the deaths on February 22.
Other buildings to be scrutinised include the Forsyth Barr building, where the staircases collapsed, and the Hotel Grand Chancellor.
Mr Key would not rule out criminal charges. "So many lives have been lost ... that we must find answers, particularly about why such a significant loss of life occurred in two buildings."
He said the royal commission and the departmental investigation would help answer questions about the adequacy of building standards, the safety of those buildings and whether they should have been used after the first major quake in September.
"This independent investigation is a vital step in rebuilding public confidence in the future of the Christchurch CBD. It is important that the reasons for the severity of the damage to certain buildings and consequent loss of life are understood as soon as possible."
The royal commission is expected to provide an interim report within six months, including recommendations for new buildings going up as part of the recovery.
Mr Key said it was important that information came through quickly so those buildings could be built to the right standards. The final report would take about 12 months and findings on new building codes applied nationally.
Owners of both buildings have said they were cleared after the September quake and checked by engineers. Recently, Lionel Hunter, sole director of CTV building owner Madras Equities, told the Herald he would have "pushed it over myself" if he had known anything was wrong with it.
Pyne Gould CEO Jeff Greenslade has said he was surprised by the damage to his firm's building, now in private ownership. It was properly tested after the September 4 shake.
The royal commission will be chaired by Justice Mark Cooper, a High Court judge with experience in the Resource Management Act, local government and planning.
Two other members will be appointed by Attorney-General Chris Finlayson and terms of reference drawn up in consultation with the chairman.