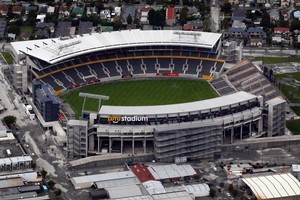 A decision on whether Christchurch can host Rugby World Cup matches is likely to be announced this week, but Prime Minister John Key is indicating that the city's chances are looking increasingly bleak.
The Government has received some advice on the state of AMI Stadium, which was severely damaged in the February 22 earthquake, but is still awaiting more engineering reports.
Mr Key said he hoped to make a recommendation to the International Rugby Board, which makes the final decision, and announce the outcome by the end of this week.
"We all acknowledge it's challenging, but that doesn't mean it's not impossible," the PM said yesterday. "Yes, there is an emotional part of this, and obviously all of us, I think, want to see the Cup held in Christchurch.
"But unless it can be done in a way where it's in the best interests of both Cantabrians - and actually possible - and in the best interests of the Rugby World Cup and New Zealand's international image, it won't happen."
Christchurch's chances of staging the matches were already looking slim after a senior IRB official, who wanted to remain anonymous, told the Weekend Herald it would be a "mammoth effort" to rebuild the city in time for the September tournament.
"Most intelligent people would say the infrastructure and hotels would not be there and ready in time. And even if they were, would people want to go to Christchurch?" the official said. "There is a huge risk, a massive risk ... as regards further earthquakes."
The official stressed that a final decision might not be made until the board's next meeting on March 25.