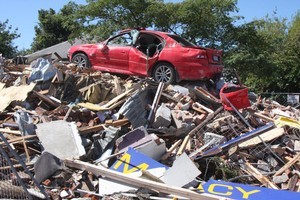 Over 400 vehicles from the cordoned off area of Christchurch's earthquake-ravaged CBD have been returned to their owners, says Superintendent Dave Cliff.
However, there were many vehicles left to recover, with police saying on Saturday there were up to 4000 in the area.
Vehicle recovery was "progressing well", with the initial focus being those parked on the street, Mr Cliff said at today's media conference.
"That progress is continuing to gain momentum and tomorrow we will also begin the process of clearing vehicles from parking buildings," he said.
Superintendent Russell Gibson said on Saturday that people could register their vehicle details with the vehicle recovery team by phoning 0800 311 311, between 8am and 5pm.
Registration did not mean a vehicle would be instantly returned, but meant returning it would be easier, he said.
"We fully appreciate that people being without their vehicles is a source of frustration but the rescue and recovery operation had to be made a priority and public safety within the CBD remains an issue," Mr Gibson said.
No vehicle would be handed over unless the owner had the keys, up-to-date proof of ownership and identification.
In cases where owners do not have keys or the vehicle cannot be driven, it will be taken to a collection point and owners will then need to organise replacement keys or a tow from the collection point and liaise with their insurers.
- NZPA