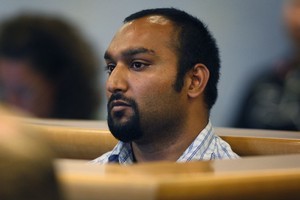 A jury has retired to consider its verdict in the trial of a man accused of shooting an Auckland police officer.
Neshanderan Rajgopaul, 29, is on trial in the High Court at Auckland for attempting to murder Constable Jeremy Snow in Papatoetoe in December, 2009.
Mr Snow was shot four times when he and his partner stopped to check a car parked in the driveway of house.
He was rescued by armed police as he came close to dying from blood loss.
The jury of six men and six women retired at 1pm, after closing remarks from Justice Patrick Keane.
Giving evidence last week, Rajgopaul admitted he lied to police when interviewed, Justice Keane said today.
"But people lie for all sorts of reasons due to panic and fear. He was fearful about retaliation and being branded a nark," Justice Keane told the jury.
"You have to decide whether Rajgopaul's evidence was credible and reliable or not entirely convincing," Justice Keane said.
The jury would also have to pay careful consideration to the other witnesses they had heard during the trial, when determining who fired the shots, the judge said.
Rajgopaul's lawyer Ron Mansfield said there was strong and reliable evidence to suggest that his associate Darrin Court could have shot Mr Snow.
But Crown prosecutor Rachael Reed has said Rajgopaul was the man who gunned him down.
As well as the attempted murder charge, Rajgopaul faced one charge of firing a weapon with intent to cause grievous bodily harm, four of unlawfully possessing a firearm, and one charge each of possessing a class A drug for supply and receiving stolen property.
He also faced two charges of assault using a firearm as a weapon relating to incidents between September and December 2009. He has pleaded not guilty to all 10 charges before the jury of six men and six women.
- NZPA