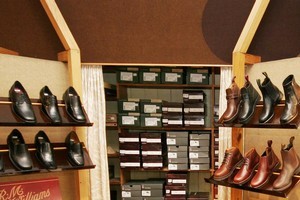 A woman who says she was offered a job in a shoe shop but later told there was no position for her has lost her bid for compensation.
Jill Philpott told the Employment Relations Authority she was offered a job by Athena Footwear in Taradale but before she signed a contract she was told the position was no longer hers. She asked for lost wages and $9000 compensation.
Athena Footwear argued no job had ever been offered to Ms Philpott.
Ms Philpott said she met Athena co-director Vicki Skepetaris in February and they talked about wages and hours. At a second meeting, she gave co-director Andreas Skepetaris a CV and was shown around.
She said she also filled in a form which asked for personal particulars, whether she had any convictions and any reason "why I should not work there, including any employment issues".
Mr and Mrs Skepetaris are adamant there was no form.

Ms Philpott said she was phoned by Mrs Skepetaris who "offered me the position and I accepted it and said that we would discuss a starting date soon". She said March 9 was agreed to later so she could take a holiday.
But Mrs Skepetaris said she rang to arrange another meeting where an employment contract could be discussed. She said Ms Philpott postponed the meeting until March.
Some time later the Skepetarises received a call from Ms Philpott's former partner and business partner, who told them Ms Philpott was involved in a court hearing with him.
Employment Relations Authority member Ken Anderson found that while there was "certainly meaningful discussion", no employment agreement had been entered into. He said Ms Philpott had no grounds for a personal grievance claim.
- Staff reporter