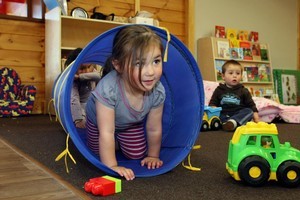 Parents need more choice in childcare, including greater flexibility in the hours they pay to put their babies there, says Government advice.
The Herald on Sunday understands that Children's Commissioner John Angus will release a comprehensive report on childcare next week, advising the Government to increase paid parental leave or assistance to mums.
Angus wants more safeguards for babies and their parents, particularly those who are financially strapped.
He has been investigating which type of childcare provides the best environment for babies, whose needs are different from toddlers.
The latter might thrive in more social situations, learning skills such as counting and writing, while babies are more vulnerable and have basic developmental needs.
Angus has previously told the Herald on Sunday of concerns about babies spending too long in care - up to 40 or 50 hours a week.
He stressed there were particular health and safety issues around looking after the very young and that they needed "quality" care.
His report will not encourage parents to increase the hours their children spend in care, but he will advise that parents should be allowed greater choice about how many hours they put their children into care for during the day without being financially penalised.
Education Ministry figures released in December showed about 8700 babies under 12 months were in licensed services - a 30 per cent increase on five years ago.